If you're visiting Tokyo, Japan, here is a list — a short list that every gamer needs to do.
1. Visit the Otaku District: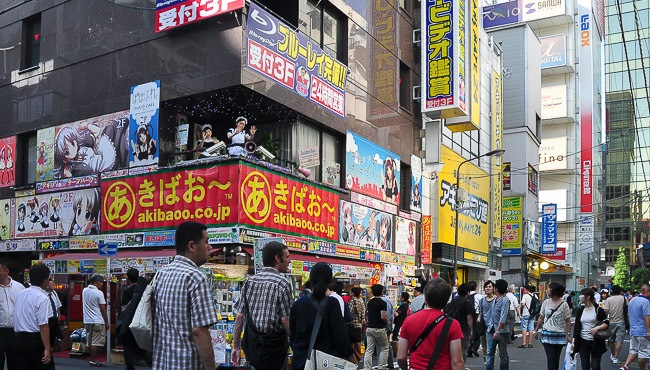 Visiting Tokyo? Make a stop at Akihabara. The neighborhood is traditionally (after World War 2) viewed as Japan's electronics, gaming and otaku hub. Moreover, Akihabara has been undergoing major redevelopment over the years, including the renovation and expansion of Akihabara Station and the construction of new buildings in its proximity. Among these newly opened buildings were the huge Yodobashi electronics store and the Akihabara Crossfield, a business complex with the aim of promoting Akihabara as a center for global electronics technology and trade.
Besides that, there are alternatives to Akihabara — namely Nakano Broadway and Otome Road in Ikebukuro. Nakano Broadway is heavy on the figures, retro toys and manga/anime goods, but still definitely worth checking out — especially the game shop, Galaxy. Otome Road is geared towards female otakus, more known as "fujyoshi."
2. Hang Out In Japanese Arcades: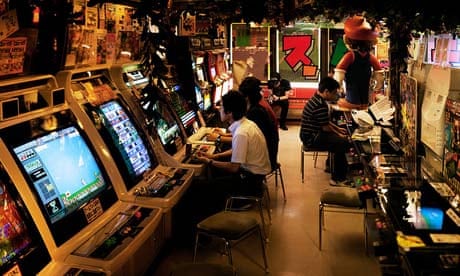 Compared to the U.S. or Europe, Japan is truly an arcade heaven. Here are 5 of the best arcade place that gamers should visit.
A. Shooting Bar EA:
Shooting Bar EA is a BB gun target range and bar. Once you've signed the obligatory rules and regulations contract and ventured inside, the bar and cosy tables are surrounded by BB gun replicas hanging on the walls – Glocks, Sig Sauers, Colts, and even a Samurai Edge, the handgun used in the Resident Evil video games. The partitioned shooting range is outfitted with a touch panel to control the targets' location, and guns with three magazines of BBs or rifles with two are available to rent.
B.Super Potato:
The top floor of Akihabara's Super Potato retro games centre is an old-time Japanese arcade, complete with 1970s-style glass-top cocktail arcade cabinets. Besides arcade games, there are manga comics for perusal, bottled Coca-Cola for purchase, and a giant chair made completely of Nintendo game cartridges. The decor fails to match the retro theme – it's more like a jungle, with the rafters covered in fake leaves and vines, sheltering a camo-clad life-size statue of Snake from Metal Gear Solid, with pistol cocked.
C. Tokyo Joypolis:
Joypolis isn't just an arcade, it's a colourful theme park complete with rides, a haunted house and a rollercoaster. There are arcade games, of course, but also virtual reality attractions and short 3D movies. One standout is the Initial D Arcade Stage 4, which features life-sized versions of iconic Japanese cars for virtual racing.
D. Purikura no Mecca:
Having first appeared in the mid-1990s, sticker photo machines, aka Purikura or "print-club", are now a cultural mainstay – whether on a date or with friends, Japanese teens have become obsessed with posing for snaps in these increasingly ubiquitous booths. Located right next to Shibuya Kaikan Monaco, Purikura Mecca is a cramped, schoolgirl-saturated first floor that features rows and rows of these machines. Spend half an hour there and you'll get the idea. House rules say that male customers must be accompanied by a female, while all-girl groups are OK.
E.Game Bar A-Button:
What more appropriate way to end an Akihabara day than with a nightcap accompanied by all the old video game consoles you could ever want. Retro game controllers hang from the walls, and gamers roll back the years fo the 1980s, and 1990s analogue games on the original Nintendo Famicoms, beamed through the in-house cathode ray TV while sipping draught beer and ordering giant bottles of sake. Piled high with games and consoles, it feels more like a Japanese gamer's dream bedroom than a bar, but there's a full range of spirits and a selection of side dishes to service your game trance.
3. Visit Game Location:
Gamers should know most of the Japanese in-game locations seen, can be found on the street of Tokyo. Take it as a quest to find out which streets occur in which games. We believe this trip to seek out the locations in Tokyo will be meaningful for gamers.
4. Eat and Drink at Gaming Theme Venue
After visiting a few place in the Tokyo, you'll probably be hungry from all that walking. We recommend these gaming-centric restaurants that every gamer should visit:
A.) Capcom Bar


Whether you like Biohazard, Phoenix Wright, Monster Hunter or any of the Capcom games, the Capcom Bar has a set of themed food for you. The ambiance of this restaurant stands out from others, thanks to the great setting and the little skits performed by the staff (knowing Japanese or some of the Japanese phrases related to the game of your choice is very helpful).
Access: 6 minutes walk from the east exit of Shinjuku st. (closest exit: B9)
Price: Menu items from ¥530 to ¥2,180 (average meal: around ¥2,000)
Opening hours: Weekdays: 14:00-23:30 Weekends and holidays: 11:30-23:30
B.) Cure Maid Cafe
This is the first ever maid cafe in Tokyo. Cure Maid offers the quintessential Victorian maid fantasy, though not in the sexualized sense of the anime and games featuring these characters. There is abundant greenery, classical music and respectfully distant maid service. The food is decent, and less conventional services may be offered during the café's regular anime promotions. The cafe is located at Gee Store 6F, Soto-Kanda 3-15-5, Chiyoda-ku.
C.) Ninja Akasaka
If you want to see the Japan of your imagination, go to this restaurant. There, you will be served by black-clad ninjas, entertained by magicians, and will be amazed by the setting. The magical and mysterious food is also an entertainment on its own. This ninja themed restaurant is a bit pricey, but it will make your inner child squeal with delight.
Access: 3-minute walk from Akasaka-Mitsuke st.
Price: Set courses from ¥5,500 à la carte menu varies between ¥600 and ¥10,800 (average single plate priced around ¥2,000)
Opening hours: Weekdays: 17:00-25:00 (door closes at 22:30) Weekends and Holidays: 17:00-23:00 (door closes at 21:45)
5.) Go To Tokyo Game Show
Last but not least, Tokyo Game Show (TGS) is a must visit place for every gamer. TGS is a video game expo held annually on September at the Makuhari Messe, in Chiba, Japan. It is presented by the Computer Entertainment Supplier's Association (CESA) and Nikkei Business Publications, Inc. The main focus of the trade show is on Japanese games, but some international video game developers use it to showcase upcoming releases/related hardware. Like Germany's Gamescom, Tokyo Game Show allows the general public to attend during the final two days.
Have fun Gamers!
Related Product Links:
Nintendo Eshop Card (US)
Nintendo Eshop Card (UK)
Nintendo Eshop Card (JP)
Nintendo Eshop Card (Other Region)
Nintendo 3DS Cash Card
iTunes Gift Cards
Google Play Gift Cards
PlayStation Network Gift Cards
Xbox Live Gift Cards
Steam Wallet Codes
Source: Kotaku