Winter is coming, a Fallout 4 winter that is. When Fallout 4 was released, gamers spent the entire game wandering the wasteland in what seems to be a perpetual summer/spring time. While we're not sure how weathers were affected by the nuclear fallout, it'd be nice to see different seasons in Fallout 4. Well, now you can experience a nuclear winter with a new Seasons mod for PC.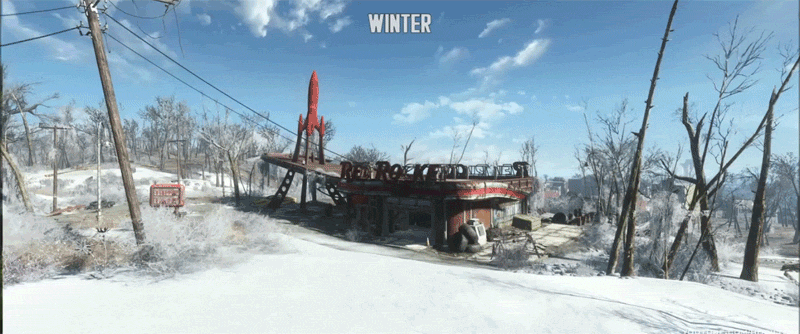 While Fallout 4's official mod tools have not been made available by Bethesda, PC modders have been tinkering and making all sorts of crazy mods. But this Fallout 4 Seasons Mod truly takes the cake for making huge changes to the game, despite not having the official Creation Kit.
The Seasons Mod, created by Nexusmods user GameDuchess, expands the Fallout 4 day/night cycle by adding a season cycle of spring, summer, winter, and fall. YouTuber Hodilton made a feature video on the Fallout 4 Seasons Mod, showcasing a demonstration of the mod and how the seasons compares to each other.
The mod also allows for texture settings that range from standard to 4K for those that really wants to see the details. But be forewarned, installing the mod might lead to framerate drops if your rig is not compatible with the mod. If you do want to install it, a couple of notes. First off, the seasons do not cycle automatically, instead, you'll have to switch it manually. Secondly, it best to have backup data in case anything goes wrong. Remember, SAVE, SAVE, SAVE!
Other than that, go crazy with the mod. You can head over to GameDuchess Nexusmods page and start downloading it to add that nuclear winter that Fallout 4 has always been missing. If you want more mod, check out this list of mods that you can add to Fallout 4 to make the game more outrageous.
Haven't picked up Fallout 4 yet? OffGamers is currently having a discount promotion for FaIlout 4 (PC Edition). Grab your copy today and start exploring the Commonwealth!
[table]
[/table]
Source: Watch How The Seasons Can Change In New Fallout 4 Mod
Related Product Link(s):
Playstation Network Gift Card (PS4) (US) 
Playstation Network Gift Card (PS4)(UK)
Playstation Network Gift Card (PS4) (JP)
Playstation Network Gift Card (PS4) (Other Regions)
Steam Wallet Codes (US)
Steam Wallet Codes (EU)
Steam Wallet Codes (UK)
Steam Wallet Codes (MY)
Steam Wallet Codes (TH)
Steam Wallet Codes (ID)
Steam Wallet Codes (PH)
Steam Wallet Codes (SG)
Steam Wallet Codes (Asia/Middle East)
Xbox Live Gift Card (Xbox One)(JP)
Xbox Live Gift Card (Xbox One)(UK)
Xbox Live Gift Card (Xbox One)(EU)
Xbox Live Gift Card (Xbox One)(US)
Xbox Live Gift Card (Xbox One)(Other regions)