Apple TV Set To Conquer Living Rooms With Its Gaming Peripherals
It was a matter of time, and they have been alluding to it, but it seems that Apple has finally thrown its hat into the gaming world with the recently unveiled Apple TV's new gaming/TV remote. Announced during the Apple Live Event, this hybrid of a TV and gaming remote is reminiscent of Nintendo's Wii controller. Whether it'll be as successful is yet to be seen.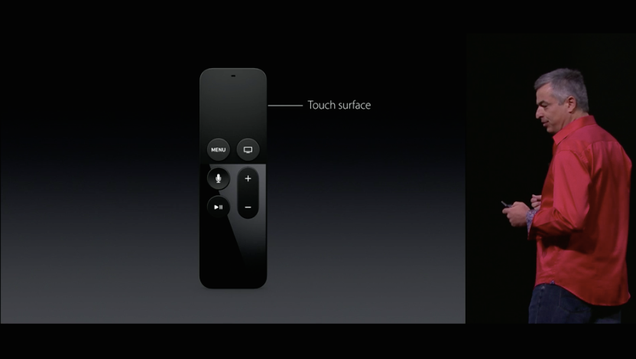 Packaged with the fourth-generation Apple TV, the remote will work with game apps that Apple said will be supported by their new tvOS. The focus on apps is something that Apple CEO Tim Cook feels confident in, stating that they "believe the future of television is apps,"
A focus on gaming apps is evident during the Apple Live Event with the live showing of Crossy Roads by developers Hipster Whale. A Frogger-like game that supports the new game controller and also comes with multiplayer support. Check out the gameplay footage below for your first look at the game.
Unexpectedly, the other game that was shown during Apple's Live Event was from the developer of the Guitar Hero and Rock Band, Harmonix. They showed off their game Beat Sports, that was designed from the ground-up for the Apple TV.
With more games such as Disney Infinity and Guitar Hero Live, coming down the line, it seems as if Apple are really making a shift towards creating a gaming-centric hub with their Apple TV. But it's not just the gaming remote that's coming to the Apple TV. Following the announcement, Apple revealed a more conventional gamepad by Steelseries called the Nimbus, which will retail for $49.99. Looking basically like Xbox controller, the Nimbus should be familiar to the hands of a gamer.
Despite all of the announcements, gamers will probably still be skeptical with Apple's gaming movement since most games that have been announced are generally app-style mini games rather than AAA game experiences. As evident with the healthy sales of Playstation 4 and Xbox One, gamers still prefer immersive and deep gameplay experience above all else.
But then, again, no one expected that Wii would end up being so successful. If Apple manages to capture audiences the same way that Nintendo did, then they might have created another Blue Ocean market for themselves. We'll find out when the new Apple TV goes on sale in late October.
Source: Apple TV Is Getting A Gaming Remote
Related Product Links:
iTunes Gift Cards