Armello, originally a crowd funded game from Kickstarter, is a virtual tabletop game that has amassed quite a following on the online tabletop arena. The game is coming to Playstation 4 and the developers behind Armello are excited to bring it to a whole new audiences.
The game is set during the medieval era, against a rich and regal backdrop that's oddly reminiscent of old Disney cartoons. The world is populated with humanoid animals such as lions, bunnies, bears, ravens and more. Players will assume control of one of the four main races, where each will have their own race strength and weakness.
The Bear clan, for example, will have greater fortitude in combat, as well as a greater affinity with magic. The Wolf clan instead, focuses on strength and offense and leveling up these characters will unlock unique abilities for each race.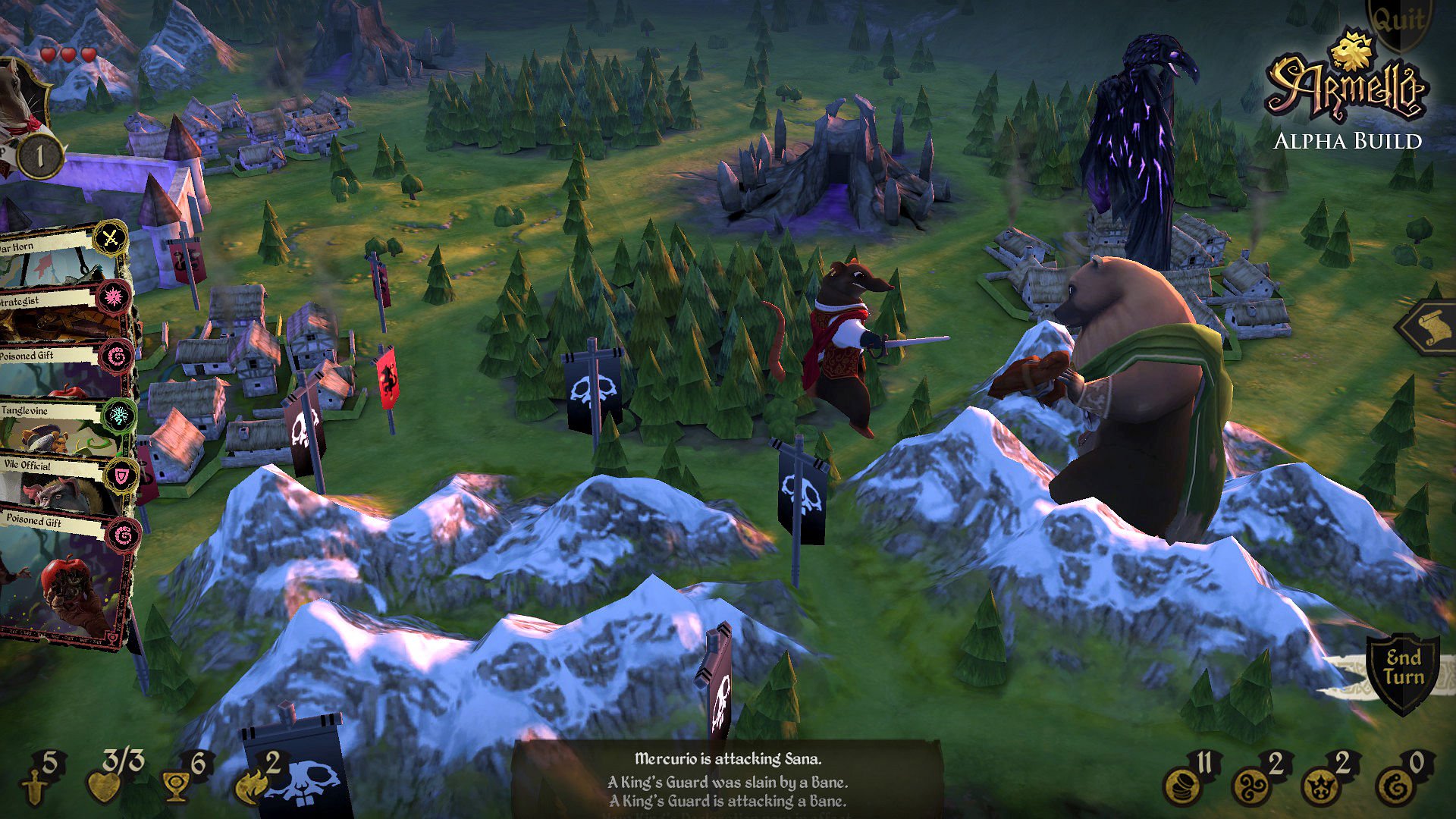 Of course, anything set in medieval times will enlist comparison with the massive show Game of Thrones, but Director Trent Kusters embraced the comparisons, claiming that Armello is basically "Game of Thrones meets Kung Fu Panda."
He went on to say during an E3 interview, "You've got a king in the center of the board, and he's dying of this dark force called The Rot. It's twisting him into madness and he's basically taking the kingdom down with him, so the clans that were once loyal to him are now rising up, and they've sent out their heroes to claim the throne."
Armello is all about the strategy and if you're not too keen on strategy games, Armello might not be for you. The game will require concentration and strategy to ensure victory. There's also the deep corruption system where players have the choice to become a sort of "sith lord" by reaching maximum corruption, The world of Armello is so corrupt, you even have the option to bribe guards within the game!
Armello is set to come to Playstation 4 on September 2015. It's currently available on Alpha Build for PC on Steam Early Access with the complete build to be release simultaneously as the console edition.
Source: E3 2015: Armello Gets Treacherous On PlayStation 4
Related Product Link(s):
Playstation Network Gift Card (PS4) (US) 
Playstation Network Gift Card (PS4)(UK)
Playstation Network Gift Card (PS4) (JP)
Playstation Network Gift Card (PS4) (Other Regions)
Steam Wallet Codes (US)
Steam Wallet Codes (EU)
Steam Wallet Codes (UK)
Steam Wallet Codes (MY)
Steam Wallet Codes (TH)
Steam Wallet Codes (ID)
Steam Wallet Codes (PH)
Steam Wallet Codes (SG)
Steam Wallet Codes (Asia/Middle East)