We at OffGamers love movies and one of the biggest movies that we're looking forward to is Batman V Superman: Dawn of Justice, where a lot of DC fans dream comes true with the holy trinity of Batman, Superman and Wonder Woman, finally appearing together in one movie.
The three and half minute long trailer showed off plenty of story details, which, based on early predictions by insiders, follows Batman seeking vengeance on Superman for the destruction he caused during Man of Steel (2013). In between that showdown, we have Lex Luthor seemingly plotting to takedown both Batman and Superman together.
Of course, the biggest fan-favourite moment in the trailer is probably when Gal Gadot's Wonder Woman finally makes her on-screen appearance for a few glorious seconds. Donned in her iconic Amazonian armor, Wonder Woman is looking very fierce and ready to brawl.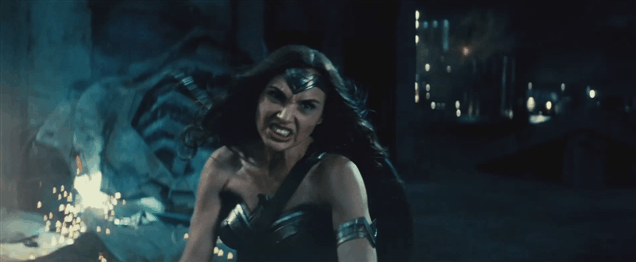 No signs of Jason Momoa or Ezra Miller, who are set to play as Aquaman and The Flash respectively but we'll probably see them when the movie comes closer to release.
But there was plenty of action to go around in the Comic-Con trailer for Batman V Superman: Dawn of Justice, with Ben Affleck's Batman seeming to be able to match with Henry Cavill's Superman using an array of gadgets that the Dark Knight is known for. The stand off between Batman and Superman ends in a climax as both superheroes were standing off on top a destroyed Batmobile, which is no doubt the work of Superman.
With the movie being a set up for the highly anticipated Justice League movie, Batman V Superman: Dawn of Justice has the unenviable task of introducing and re-introducing major DC characters such as, Cyborg, Aquaman, Wonder Woman and of course Batman (with possibilities of introducing The Flash and Robin).
With Suicide Squad, the villain-centric DC flick, set to give audiences a new look of The Joker played by Jared Leto, fans will also be introduced to other established villains such as Harley Quinn, Deadshot, and Boomerang to name a few. How it will tie up to the overarching DC Movie Universe is yet to be seen.
Batman V Superman: Dawn of Justice is set for release on March 24th, 2016 for Australia and March 25th, 2016 for US and UK audiences.
Source: Check Out The New Batman V. Superman Trailer, Starring Wonder Woman