I Am Bread, the toast making bread simulator, will be making its way to Playstation 4 on August 25th as revealed by developer Bossa Studios. Originally a PC-only release, I Am Bread is finally making its way to a console after its initial release on April 9th this year.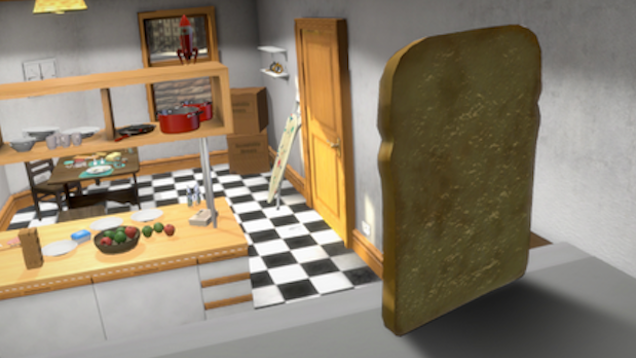 I Am Bread puts players in control of a bread, that dreams of being a toast. They must guide the bread through the environment using physics-based control mechanics and avoid losing its health or "edibility" meter from touching the floors or falling on filthy surfaces.
The faster you are in becoming a toast, the better the scores (or deliciousness) are. Plus, there are other hidden mechanics strewn throughout the level that will increase the bread's "deliciousness" but will be up to the players to find out what these mechanics are. There are four levels in total for players to play through in their journey of making the bread into toast. These levels range from the Kitchen to the Lounge to even the Bathroom, and each level will definitely test players ability to create the best-toasted bread.
Aside from being a bread, the latest update for I Am Bread will include new modes that will allow players to play as either a bagel or a baguette, adding more variety to the breakfast goodness.
I Am Bread is available now for PC. It will be coming to Playstation 4 on August 25th. A slew of Easter Eggs was revealed on the Playstation Blog which are filled with spoilers for those who hadn't played the game. If you're still intent on finding out the Easter Eggs, head over HERE to find out more.
Source: I am Bread, which stars a slice of bread who dreams of being toast, is coming to PS4 on Tuesday, Aug
Related Product Link(s):
Playstation Network Gift Card (PS4) (US) 
Playstation Network Gift Card (PS4)(UK)
Playstation Network Gift Card (PS4) (JP)
Playstation Network Gift Card (PS4) (Other Regions)
Steam Wallet Codes (US)
Steam Wallet Codes (EU)
Steam Wallet Codes (UK)
Steam Wallet Codes (MY)
Steam Wallet Codes (TH)
Steam Wallet Codes (ID)
Steam Wallet Codes (PH)
Steam Wallet Codes (SG)
Steam Wallet Codes (Asia/Middle East)