Big (Prehistoric) Cats Are Your Buddies In Far Cry Primal
Far Cry Primal is already shaping up to be one of the most anticipated games for 2016. Why? Because you get to team up with a freaking Sabertooth tiger. That's why. If you haven't seen or heard it yet, The Game Awards 2015 showcased a world premiere gameplay footage of Far Cry Primal and it was quite the vicious trailer.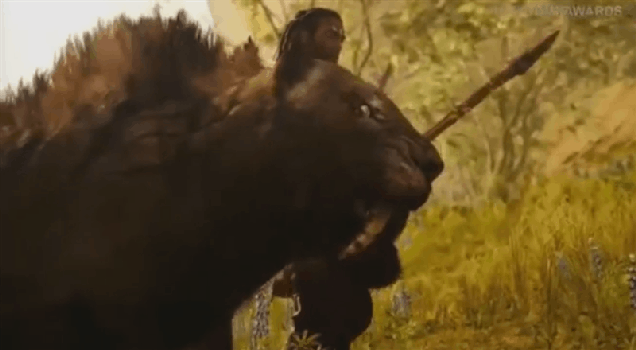 The trailer itself gave some insight on the story and protagonist Takkar, who, as the voiceover seems to indicate, is the chosen one to control the beasts he encounters. A sort of "Beast Master" if you will. After that brief introduction to mysticism, it's all about the gore and gameplay of Far Cry Primal.
Ubisoft has always excelled when it comes to creating an FPS game, but Far Cry Primal really seems to hone in on the first person perspective, which gives the game a very visceral look when you're fighting bad guys. Whether it be sneaking on an unsuspecting enemy tribe or throwing spears through an enemy's head, the action was intense to say the least.
Of course, the feature that most gamers are probably looking forward to is Takkar's ability to team-up with beasts within the game. And the trailer managed to feature a roster of beasts that you'll be teaming up with, ranging from the aforementioned Sabertooth tiger to a werewolf, to even a freaking bear!
If that doesn't get you amped up for the game, check out the trailer below of Far Cry Primal in action:
Far Cry Primal is expected for release on February 23rd, 2016 on Xbox One and Playstation 4 with PC set to come later in March.
Source: Here's Our First Real Look At Far Cry Primal
Related Product Link(s):
Playstation Network Gift Card (PS4) (US) 
Playstation Network Gift Card (PS4)(UK)
Playstation Network Gift Card (PS4) (JP)
Playstation Network Gift Card (PS4) (Other Regions)
Steam Wallet Codes (US)
Steam Wallet Codes (EU)
Steam Wallet Codes (UK)
Steam Wallet Codes (MY)
Steam Wallet Codes (TH)
Steam Wallet Codes (ID)
Steam Wallet Codes (PH)
Steam Wallet Codes (SG)
Steam Wallet Codes (Asia/Middle East)
Xbox Live Gift Card (Xbox One)(JP)
Xbox Live Gift Card (Xbox One)(UK)
Xbox Live Gift Card (Xbox One)(EU)
Xbox Live Gift Card (Xbox One)(US)
Xbox Live Gift Card (Xbox One)(Other regions)