Posted
March 26, 2020
in Gaming
Bright Memory: Infinite trailer released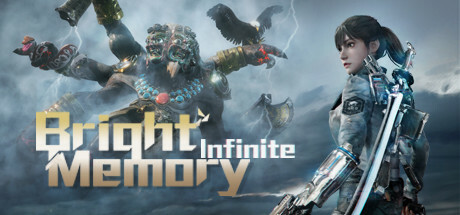 Developer FYQD-Studio refers to its upcoming sequel Bright Memory: Infinite as a "lightning-fast fusion of FPS and action," and that's certainly an apt description based on the gameplay showcased in its brand new trailer today. Watch it below:
Bright Memory: Infinite's combat meshes traditional shooting with combo-based sword swipes and brutal melee finishes. It's not a completely unique concept (think Shadow Warrior), but it's a design that doesn't always feel totally fluid in practice. Of course, we'll have to wait until we've experienced a Bright Memory: Infinite before we'll know if it's nailed the fusion, but this new footage is certainly promising.
As for the setting, Bright Memory: Infinite takes place in a futuristic metropolis circa 2036. It's a world in which a strange phenomenon has prompted the Science Research Organization (SRO) to send agents to various regions to investigate. It is then discovered that the origins of these strange occurrences are linked to an archaic mystery.
The premise is a continuation of the original Bright Memory game, simply called Episode 1. This was released in Early Access back in January of 2019 but hasn't yet been completed. And it actually won't be — FYQD Studio has explained that development efforts will shift to Infinite and Episode 1 will serve as a testbed for experimental ideas.
As a result, anybody who purchased Episode One will get Infinite free of charge when it releases. Bright Memory will launch on PS4, Xbox One, and PC. No release date has been finalized.
Get the game when it releases with our PSN Cards, Xbox Live Gift Cards, and Steam Wallet Codes below:
PlayStation Network Cards
PlayStation
Network Card (AE)
PlayStation
Network Card (AT)
PlayStation
Network Card (AU)
PlayStation
Network Card (BE)
PlayStation
Network Card (BH)
PlayStation
Network Card (BR)
PlayStation
Network Card (CA)
PlayStation
Network Card (CH)
PlayStation
Network Card (DE)
PlayStation
Network Card (DK)
PlayStation
Network Card (ES)
PlayStation
Network Card (FI)
PlayStation
Network Card (FR)
PlayStation
Network Card (HK)
PlayStation
Network Card (ID)
PlayStation
Network Card (IE)
PlayStation
Network Card (IT)
PlayStation
Network Card (JP)
PlayStation
Network Card (KW)
PlayStation
Network Card (MY)
PlayStation
Network Card (NL)
PlayStation
Network Card (NO)
PlayStation
Network Card (OM)
PlayStation
Network Card (PT)
PlayStation
Network Card (QA)
PlayStation
Network Card (RU)
PlayStation
Network Card (SA)
PlayStation
Network Card (SE)
PlayStation
Network Card (SG)
PlayStation
Network Card (TW)
XBox Live Gift Cards
Xbox Live
Gift Card (AR)
Xbox Live
Gift Card (BR)
Xbox Live
Gift Card (EU)
Xbox Live
Gift Card (HK)
Xbox Live
Gift Card (JP)
Xbox Live
Gift Card (TR)
Steam Wallet Codes

Steam Wallet Codes
(Global)
Steam Wallet Codes
(AE)
Steam Wallet Codes
(AU)
Steam Wallet Codes
(BR)
Steam Wallet Codes
(CA)
Steam Wallet Codes
(CO)
Steam Wallet Codes
(EU)
Steam Wallet Codes
(HK)
Steam Wallet Codes
(ID)
Steam Wallet Codes
(IN)
Steam Wallet Codes
(JP)
Steam Wallet Codes
(KR)
Steam Wallet Codes
(KW)
Steam Wallet Codes
(MY)
Steam Wallet Codes
(PE)
Steam Wallet Codes
(PH)
Steam Wallet Codes
(SA)
Steam Wallet Codes
(SG)
Steam Wallet Codes
(TH)
Steam Wallet Codes
(TR)
Steam Wallet Codes
(TW)
Steam Wallet Codes
(UA)
Steam Wallet Codes
(UK)
Steam Wallet Codes
(VN)
For more Information:
Bright Memory: Infinite Official Twitter Page
Additional Websites:
Offgamers Steam Wallet Codes
Offgamers PSN Cards
Offgamers Xbox Live Gift Cards