Call of Duty®: Mobile Season 11: Final Snow
In season 11 of Call of Duty®: Mobile, the Templar tracked down the Dark Covenant and erupted a battle in the Arctic to end their alliance once and for all. His two-year long journey will finally come into a conclusion in the story arc, Final Snow.
This season brings out the Season 11 Battle Pass, the new Icebreaker Multiplayer map, the Ho-Ho-Hot Drops Themed Event, two new weapons, a new Operator Skill,  returning Undead Siege in Nightmare mode , 12 days of holiday deals and more holiday celebration. Final Snow goes live on December 16.
Season 11 Battle Pass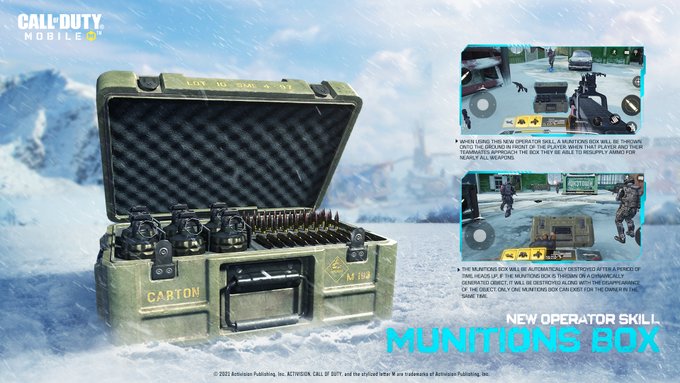 Battle Pass Free Tiers
• Tier 14: Munitions Box Operator Skill (replenishes ammo and tactical equipment for the team)
• Tier 21: PKM LMG
• Other free tier items include: UL736 (Polar Light), the Sticker (Royal Rule), the Warm Plaid camo series, and more
Premium Pass Tiers
• Arctic-themed Operators: Vagr Modir (Whisper of Winter), Soap (Cliffhanger), Atlas (Crash), and Keegan
• Weapon Blueprints: PKM (Boru), KN-44 (Frosted Spikes), MSMC (Deceitful Deity), Echo (Tasty Treat)
• Other Rewards: Calling Card (Within Reach), Sickle (Chillscythe), Avatar (Wolf Mama), Frame (Snowman's Gun), Parachute (Let it Snow)
Multiplayer Map: Icebreaker

©Activision Publishing, Inc.
Vacant is originally featured in Call of Duty®: Black Ops 4®, now arrives on Call of Duty®: Mobile. It is a small map located at the wreckage of submarines and icebergs around it featuring medium-sized icy decks and abandoned nuclear submarine.
Multiplayer Mode: Snow Scuffle

©Activision Publishing, Inc.
Mystery gifts is randomly spawned with powerful items to be picked. Throw snowballs right to the head and earn points by collecting enemy snowballs. With points accumulated, you will even get unique snowman Skins.
Undead Siege — Nightmare Mode
Undead Siege returns with Nightmare Mode in Blackout, featuring stronger enemy with higher speed and damage. Fight back with new Legendary tier turrets and other deadly weapons and machines.
Ho-Ho-Hot Drops Themed Event

©Activision Publishing, Inc.
Collect presents and points in Battle Royale or Multiplayer matches to unlock special drop location and earn special rewards.
12 Days of Holiday Deals
Enjoy discounts on Operators, Gears, Crates, Draws, and Bundles within a limited time of 72 hours starting on December 14.
New Seasonal Challenges and Featured Events
Challenge new tasks and get rewards like Weapon Blueprints, Weapon XP, the Special Ops 4 – Firefrost Operator Skin, and cosmetic items or complete the Disc of Doom challenge to earn the deadly D13 Sector.
Two New Weapons
New weapons launching in Season 11:

— PKM (Launch)
— D13Sector (Seasonal) pic.twitter.com/Kpaecl40Ol

— Call of Duty: Mobile News (@codmINTEL) December 13, 2021
New Creator Club and Bundles

©Activision Publishing, Inc.
Coming in late Season 11, Creator Club will be launched to celebrate content creators for their community building, gameplay, and entertainment contributions to the game. To celebrate the launch, the top three content creators Ferg, HawksNest, and Bobby Plays will be featured as in-game characters.
For more information, please visit:
Call of Duty® Official Site
Additional Websites:
OffGamers iTunes Gift Card
OffGamers Google Play Gift Card

Social Media: Website / YouTube / Instagram / Facebook / Twitter / Pinterest