Star Wars: The Force Awakens is getting close to release and the hype for it is at an all-time high. What better way to celebrate The Force Awakens than to check out these amazing Star Wars mods for GTA V and Fallout 4? Of course, you could just hop back into Star Wars: Battlefront, but where's the fun in that?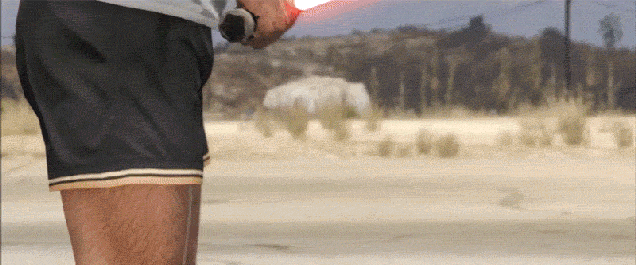 How much havoc would there be if somebody handed a Lightsaber to Trevor from GTA V? We'll never know, cause he's too busy facing off against Michael instead with the brilliantly choreographed Lightsaber duel by Youtuber Boris the Blade.
Using just the Rockstar Editor and After Effects, Boris the Blade managed to craft together a very cinematic take of a Lightsaber duel between Trevor and Michael in the world of GTA V. Mixing in-game footage with After Effects, the result is an astounding work of Star Wars/GTA V mash-up. Check out the whole video to experience a very NFSW-language and very well-done Lightsaber duel. All we need now is to have Duel of the Fates play out in the background!
If GTA V's not your kind of open-world, how about checking out this awesome mod that lets Fallout 4 players equip a Lightsaber in the wastelands? Made by user xxdeathknight72xx, the mod replaces the pool cues with Lightsabers. by adding a green hue and include custom sounds when you use it to carve up raiders.
It currently comes with a damage rating of 30, but the Modder has plans to improve the mod in the future. Some of the ideas that xxdeathknight72xx hope to put in the mod is the inclusion of a glow effect, a humming sound while equipped and new hit sounds.
In the meantime, check out the mod in action with a video by Youtuber VinnyHaw:
Fallout 4 is available on Playstation 4, Xbox One, and PC. GTA V is available on Playstation 3, Playstation 4, Xbox One, Xbox 360, and PC. Loved Fallout 4? Pick up the season pass for PC here to get future Fallout 4 DLCs!  Grab the GTA Online Great White Shark Cash Card and start building your empire by buying up all the guns and cars you'll need.
Want to get started on that holiday shopping? Check out OffGamers Cyber Monday promotions for huge discounts on popular titles, game points/cards, and top-ups!
Source: Fallout 4 (NexusMods) / GTA V (Kotaku)
Related Product Link(s):
Playstation Network Gift Card (PS4) (US) 
Playstation Network Gift Card (PS4)(UK)
Playstation Network Gift Card (PS4) (JP)
Playstation Network Gift Card (PS4) (Other Regions)
Steam Wallet Codes (US)
Steam Wallet Codes (EU)
Steam Wallet Codes (UK)
Steam Wallet Codes (MY)
Steam Wallet Codes (TH)
Steam Wallet Codes (ID)
Steam Wallet Codes (PH)
Steam Wallet Codes (SG)
Steam Wallet Codes (Asia/Middle East)
Xbox Live Gift Card (Xbox One)(JP)
Xbox Live Gift Card (Xbox One)(UK)
Xbox Live Gift Card (Xbox One)(EU)
Xbox Live Gift Card (Xbox One)(US)
Xbox Live Gift Card (Xbox One)(Other regions)