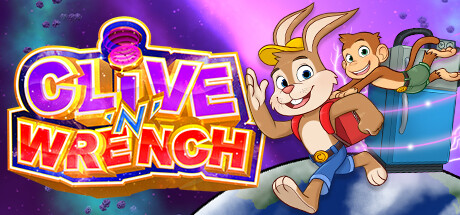 Clive 'N' Wrench, the debut 3D platformer for Dinosaur Bytes Studio, is coming to the Switch as the only console it will be on. It will still be releasing to Steam, as well. The game follows Clive the rabbit and Wrench the monkey – yes I am positive the joke was intentional – as they seek to put an end to Dr. Daucus' plans to rule the world. To do so, though, the two have to go through time and space with the help of a 1950's – yes, that's specified – fridge.
What's in Clive 'N' Wrench? Through their journey, the duo must traverse 11 different levels, face off against end-level bosses, and, of course, visit a hub world. All the key elements of a classic 3D platformer. No doubt you could tell that's where they're coming from, even their latest trailer announcing the new platform – the Switch – that it's releasing on, which showcases gameplay and the sheer dedication to make the music as on-the-nose as possible to classic platformers.
Clive 'N' Wrench has been in the development game since 2011 and has changed repeatedly over the years. To top it all off, though, fans may be delighted to hear that it will be getting a physical release alongside its digital counterpart. Currently, there isn't a complete release date, but fans should be able to get their hands on a copy – digitally or physically – sometime this winter.
This game is said to be a Nintendo Switch exclusive, but this may change in the future. Get it using our Nintendo eShop gift cards:
Nintendo eShop Cards
[table]
Nintendo eShop
Card (AU)
Nintendo eShop
Card (CA)
Nintendo eShop
Card (EU)
Nintendo eShop
Card (HK)
Nintendo eShop
Card (JP)
Nintendo eShop
Card (UK)
Nintendo eShop
Card (US)














[/table]
For more Information:
Clive 'N' Wrench Official Homepage
Additional Websites:
Offgamers Nintendo eShop Cards