Posted
March 12, 2020
in Gaming
Cross Platform MMO Crusaders of Light is amazingly fun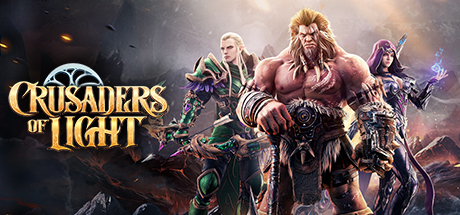 Crusaders of Light is a high-quality cross-platform MMORPG available on Mobile, Tablet, and PC with over 300 hours of gameplay! Ideal for the busy person who can't stay at home. Adventure together with friends in real-time to defeat epic bosses and unlock legendary gear. This game is WOW-lite on portable devices. Watch the trailer below:
The Desolation Wall has fallen after 700 years of peace, it's now up to you and your allies to battle the demon hordes occupying your land!
Adventure in this vast 3D fantasy open world that redefines the MMORPG experience on mobile devices. Start your journey by selecting either Ranger, Warrior, Mystic, Paladin, Elementalist Classes, each with their own distinct strengths and characteristics.
Join up to 40 guild mates as you take on bosses and collect loot in Dungeon Raids, prove yourself in Arena Battle with 1v1, 3v3, and 5v5 modes and participate to unlock powerful gear sets, take part in large scale battles, or put your survival instincts to the test as you take part in Battle Royale mode, play the game the way you want to play it. The game offers PC quality graphics to immerse you in this impressive MMO game on mobile. With over 300 hours of gameplay – including hundreds of paths for your hero -, be a part of this vibrant fantasy world with the ability to reach the coveted legendary status of level 55
There are thousands of available weapons, armor, clothes and more. You can collect rare items providing specific advantages, mixing and matching them to create the perfect combination that could make you invincible. There are also 50 unique mounts ranging from flying carpets to fire breathing dragons.
Crusaders of Light has been out for over 2 years, and is soon to enter it's 3rd year come April. The game is free to play on iOs, Android, Facebook Gameroom, and Steam.
Keep your axe sharp and your mana topped up with our Steam Wallet Codes, iTune, and Google Play Gift Cards.
Steam Wallet Codes

Steam Wallet Codes
(Global)
Steam Wallet Codes
(AE)
Steam Wallet Codes
(AU)
Steam Wallet Codes
(BR)
Steam Wallet Codes
(CA)
Steam Wallet Codes
(CO)
Steam Wallet Codes
(EU)
Steam Wallet Codes
(HK)
Steam Wallet Codes
(ID)
Steam Wallet Codes
(IN)
Steam Wallet Codes
(JP)
Steam Wallet Codes
(KR)
Steam Wallet Codes
(KW)
Steam Wallet Codes
(MY)
Steam Wallet Codes
(PE)
Steam Wallet Codes
(PH)
Steam Wallet Codes
(SA)
Steam Wallet Codes
(SG)
Steam Wallet Codes
(TH)
Steam Wallet Codes
(TR)
Steam Wallet Codes
(TW)
Steam Wallet Codes
(UA)
Steam Wallet Codes
(UK)
Steam Wallet Codes
(VN)
iTunes
Gift Card (AT)
iTunes
Gift Card (AU)
iTunes
Gift Card (BE)
iTunes
Gift Card (CA)
iTunes
Gift Card (CH)
iTunes
Gift Card (CN)












iTunes
Gift Card (DE)
iTunes
Gift Card (DK)
iTunes
Gift Card (ES)
iTunes
Gift Card (FI)
iTunes
Gift Card (FR)
iTunes
Gift Card (HK)












iTunes
Gift Card (IE)
iTunes
Gift Card (IT)
iTunes
Gift Card (JP)
iTunes
Gift Card (NL)
iTunes
Gift Card (NO)
iTunes
Gift Card (PT)












iTunes
Gift Card (RU)
iTunes
Gift Card (SE)
iTunes
Gift Card (TR)
iTunes
Gift Card (UK)
iTunes
Gift Card (US)










Google Play
Gift Card (AU)
Google Play
Gift Card (BR)
Google Play
Gift Card (CA)
Google Play
Gift Card (DE)
Google Play
Gift Card (HK)
Google Play
Gift Card (JP)












Google Play
Gift Card (KR)
Google Play
Gift Card (TR)
Google Play
Gift Card (UK)
Google Play
Gift Card (US)








For more information, please visit:
– Crusaders of light Official Homepage
Additional Websites:
– Offgamers Crusaders of Light (Steam)(Global)
– Offgamers Crusaders of Light (iOs)(Global)
– Offgamers Crusaders of Light (Android)(Global)