Posted
March 27, 2020
in Gaming
Darksiders Genesis is out now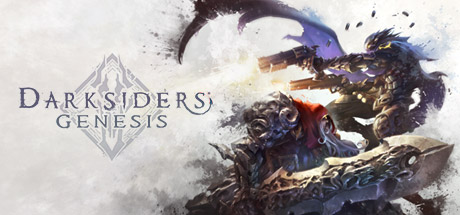 Darksiders Genesis, the prequel to hack and slash franchise Darksidersis now out on Steam, PS4, Xbox, and Switch. Watch the trailer below:
Lucifer, the Ruler of Hell, threatens to upset the balance between the conflict of Heaven and Hell by lending his powers to the dwelling Demon Masters. War and Strife, two Apocalyptic Horsemen, sent by the Charred Council, must uncover The Demon King's evil plans by eliminating the Masters and unraveling a twisty web of power struggle and collusion.
Since this is a prequel, Darksiders Genesis is a near-perfect gateway to the series for newcomers. For seasoned players, the plot will feature many familiar faces and lore beats, interwoven skillfully within the context of this tale.
Get this game using our Steam Wallet Codes, PSN Cards, Xbox Live gift cards, or Nintendo eShop gift cards below:
Steam Wallet Codes

Steam Wallet Codes
(Global)
Steam Wallet Codes
(AE)
Steam Wallet Codes
(AU)
Steam Wallet Codes
(BR)
Steam Wallet Codes
(CA)
Steam Wallet Codes
(CO)
Steam Wallet Codes
(EU)
Steam Wallet Codes
(HK)
Steam Wallet Codes
(ID)
Steam Wallet Codes
(IN)
Steam Wallet Codes
(JP)
Steam Wallet Codes
(KR)
Steam Wallet Codes
(KW)
Steam Wallet Codes
(MY)
Steam Wallet Codes
(PE)
Steam Wallet Codes
(PH)
Steam Wallet Codes
(SA)
Steam Wallet Codes
(SG)
Steam Wallet Codes
(TH)
Steam Wallet Codes
(TR)
Steam Wallet Codes
(TW)
Steam Wallet Codes
(UA)
Steam Wallet Codes
(UK)
Steam Wallet Codes
(VN)
PlayStation Network Cards
PlayStation
Network Card (AE)
PlayStation
Network Card (AT)
PlayStation
Network Card (AU)
PlayStation
Network Card (BE)
PlayStation
Network Card (BH)
PlayStation
Network Card (BR)
PlayStation
Network Card (CA)
PlayStation
Network Card (CH)
PlayStation
Network Card (DE)
PlayStation
Network Card (DK)
PlayStation
Network Card (ES)
PlayStation
Network Card (FI)
PlayStation
Network Card (FR)
PlayStation
Network Card (HK)
PlayStation
Network Card (ID)
PlayStation
Network Card (IE)
PlayStation
Network Card (IT)
PlayStation
Network Card (JP)
PlayStation
Network Card (KW)
PlayStation
Network Card (MY)
PlayStation
Network Card (NL)
PlayStation
Network Card (NO)
PlayStation
Network Card (OM)
PlayStation
Network Card (PT)
PlayStation
Network Card (QA)
PlayStation
Network Card (RU)
PlayStation
Network Card (SA)
PlayStation
Network Card (SE)
PlayStation
Network Card (SG)
PlayStation
Network Card (TW)
XBox Live Gift Cards
Xbox Live
Gift Card (AR)
Xbox Live
Gift Card (BR)
Xbox Live
Gift Card (EU)
Xbox Live
Gift Card (HK)
Xbox Live
Gift Card (JP)
Xbox Live
Gift Card (TR)
Nintendo eShop Cards
Nintendo eShop
Card (AU)
Nintendo eShop
Card (CA)
Nintendo eShop
Card (EU)
Nintendo eShop
Card (HK)
Nintendo eShop
Card (JP)
Nintendo eShop
Card (UK)
Nintendo eShop
Card (US)
For more Information:
Darksiders Genesis Official Homepage
Additional Websites:
Offgamers Darksiders Genesis (Steam)
Offgamers PSN Cards
Offgamers Xbox Live Gift Cards
Offgamers Nintendo eShop Cards