GTA Online is celebrating the 4th of July holiday with some pretty sweet updates. From 1st till 6th July, gamers will receive double GTA$ and RP on a special playlist that Rockstar created.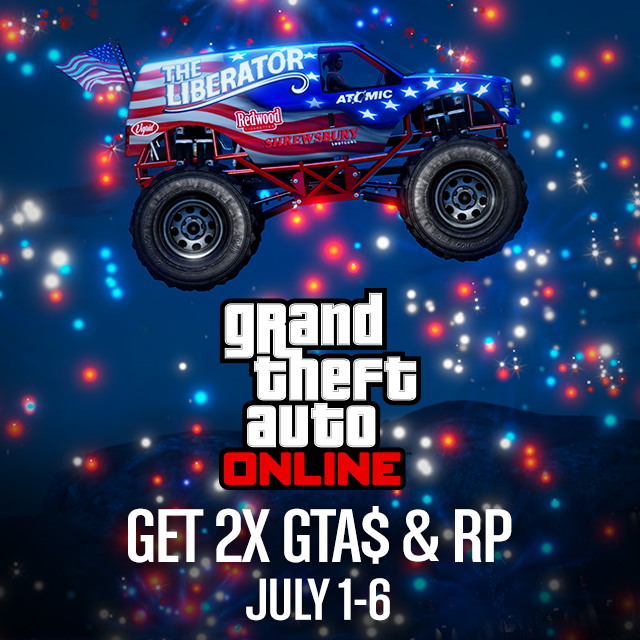 And that's not all, they are also bringing back some old favorites and some new toys for gamers to use and induce carnage with. The guys at Rockstar posted the following on their press release:
"To help laud the occasion, merchants across Los Santos are also restocking all their original Independence Day Special Inventory, with 25% discount on everything, including vehicles like The Liberator monster truck and Sovereign motorcycle, the Firework Rocket Launcher and its ammo, plus an assortment of red-white-and-blue gear including Hats, T-Shirts, Masks and more."
The double GTA$ and RP is only available on the Independence Day GTA Online Event Playlist that's compiled of mission specifically tailored to celebrate Independence Day. In every mission, players will be rewarded with double the money and experience for completing it.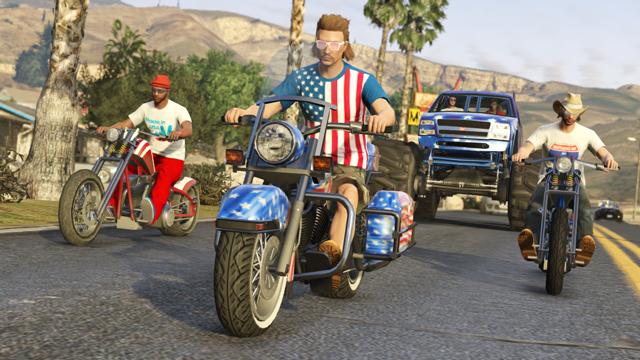 This comes as a boon since the double money rewards will allow players to save up some cash to buy all the expensive items that will be coming on the Ill-Gotten Gains Update Part 2. As Rockstar states in their press release:
"Bulk up your bank balance in advance for the upcoming ILL-GOTTEN GAINS Update: Part Two with 2X GTA$ in the Independence Day Online Event Playlist."
Some of the missions that will be offered on the playlist are "Americana (Parachuting), GTA: Land of the Free (Capture), and Mud, Sweat and Gears (Land Race)" which are all "patriotic-themed GTA Online Jobs."
The GTA Online Independence Day Special is live now and will run through till July 6th on all platforms.
Source: Double GTA$ and RP When You Play GTA Online July 1-6
Related Product Link(s):
Playstation Network Gift Card (PS4) (US) 
Playstation Network Gift Card (PS4)(UK)
Playstation Network Gift Card (PS4) (JP)
Playstation Network Gift Card (PS4) (Other Regions)
Steam Wallet Codes (US)
Steam Wallet Codes (EU)
Steam Wallet Codes (UK)
Steam Wallet Codes (MY)
Steam Wallet Codes (TH)
Steam Wallet Codes (ID)
Steam Wallet Codes (PH)
Steam Wallet Codes (SG)
Steam Wallet Codes (Asia/Middle East)
Xbox Live Gift Card (Xbox One)(JP)
Xbox Live Gift Card (Xbox One)(UK)
Xbox Live Gift Card (Xbox One)(EU)
Xbox Live Gift Card (Xbox One)(US)
Xbox Live Gift Card (Xbox One)(Other regions)