Posted
March 31, 2020
in Gaming
Drone Day update comes to Crossout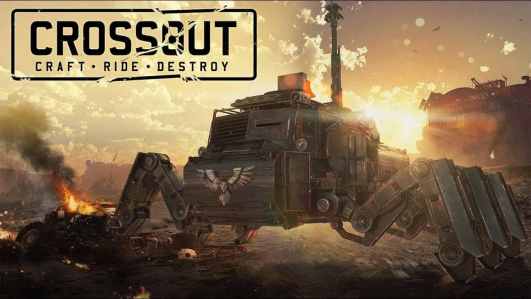 Targem Games and Gaijin Entertainment has just announced the release of 0.11.20 "Drone Day", a content Update for their post apocalyptic online action game, "Crossout". Watch the drone day trailer here:
Players will be getting the new battle drone brawl mode, bonuses for staying at home and a new assault vehicle called Charlie-7.
New brawl "Dronapocalypse" is a battle between two teams consisting of one huge Leviathan and a swarm of small but heavily armed drones. The objective in battle is to destroy the enemy Leviathan or to reduce its durability before the battle is over whilst defending your Leviathan. Success in this mission is rewarded with new stickers and unique profile banners. This mode will be available until April 8th.
The new special event "Stay at home" will last until April 9th and is quite simple: players should literally just stay at home and play Crossout. Each day, the first 15 PvP battle victories will be rewarded with 15 coins that can be used to purchase goods at the in-game market.
A new Charlie-7 armoured car resembles a modern military recon vehicle and is equipped with the unique "ATGM Flute" guided missile. It is available as a part of Crossout – Assault Force; the Charlie-7 pack also includes cosmetic items, a character portrait and some in-game currency.
For those new to the game, Crossout is an MMO vehicle combat game set in a post-apocalyptic world. It is currently available on PC, PlayStation®4 and Xbox One, offering players complete customisation in building and upgrading deadly armored vehicles to destroy enemies in open PvP and PvE battles. Crossout gives players thousands of possibilities to design their vehicle, including shape, armor, weapons, support systems and, of course, cosmetic enhancements. It also features in-game purchases for battle passes, premium parts, and cosmetics.
Get the game on steam with our steam wallet codes below. Also get in-game credits using our multi game cards, obucks, or 完美一卡通 below:
Steam Wallet Codes
Steam Wallet Codes
(Global)
Steam Wallet Codes
(AE)
Steam Wallet Codes
(AU)
Steam Wallet Codes
(BR)
Steam Wallet Codes
(CA)
Steam Wallet Codes
(CO)
Steam Wallet Codes
(EU)
Steam Wallet Codes
(HK)
Steam Wallet Codes
(ID)
Steam Wallet Codes
(IN)
Steam Wallet Codes
(JP)
Steam Wallet Codes
(KR)
Steam Wallet Codes
(KW)
Steam Wallet Codes
(MY)
Steam Wallet Codes
(PE)
Steam Wallet Codes
(PH)
Steam Wallet Codes
(SA)
Steam Wallet Codes
(SG)
Steam Wallet Codes
(TH)
Steam Wallet Codes
(TR)
Steam Wallet Codes
(TW)
Steam Wallet Codes
(UA)
Steam Wallet Codes
(UK)
Steam Wallet Codes
(VN)
Multi Game Card (Global)
oBucks Card (Global)
完美一卡通(中服)
For more Information:
Crossout Official Homepage
Additional Websites:
OffGamers Crossout (Steam)(Global)
OffGamers Crossout (PC) (Global) MultiGame Card
OffGamers Crossout (PC) (Global) oBucks Card
OffGamers 创世战车 (PC) (中服)完美一卡通