Everything Is Adorably Chibi In World of Final Fantasy
At Japan's Jump Festa 2016, fans of Square Enix were treated to a new trailer of the Final Fantasy all-star mash-up, World of Final Fantasy, that's coming to Playstation Vita and Playstation 4. The 20-minute video gave us a look at the gameplay and confirmation on the appearance of "classic" Final Fantasy characters, albeit in "chibi" form.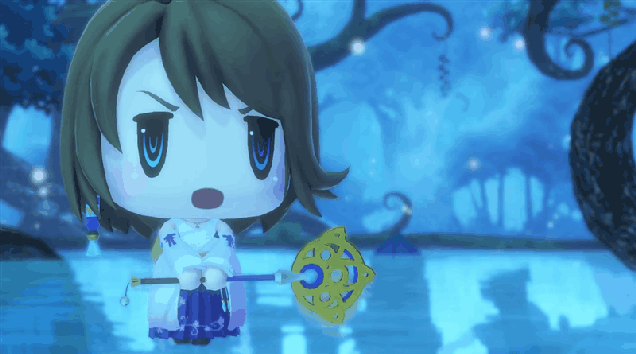 The footage shows main protagonists, twins Reynn and Lann, in random battles in a dungeon called "Forests of Lights". The pair eventually meets up with Yuna from Final Fantasy X, which Reynn and Lann proceed to summon Squall from Final Fantasy VIII. Cloud Strife from Final Fantasy VII, Faris from Final Fantasy V, and Lightning from Final Fantasy XIII all made appearances in their chibi form.
The game mechanics, such as the twin's ability to switch from big to small sizes, were shown and how it affects the gameplay. For example, when in small mode, Reynn and Lann are able to ride on monsters while, in big mode, they can stack monsters on top of each other with the formations having an effect on their stats and abilities in battle.
World of Final Fantasy will have a monster-catching mechanic as mentioned by Gematsu, making the game feel a bit more "Pokemon-esque," in addition to the players using said monsters abilities in certain parts of the game, either in battle or otherwise (at one point in the video, a monster ability was used to overcome an obstacle in the dungeon).
While there's still no date announced for World of Final Fantasy, Square Enix is targeting a 2016 release in Japan for Playstation 4 and Playstation Vita. As for its release in North America, that's still up in the air. For the latest news on World of Final Fantasy, get it here with OffGamers! .
Source: Look At World Of Final Fantasy. Just Look At It.
Related Product Link(s):
Playstation Network Gift Card (PS4) (US) 
Playstation Network Gift Card (PS4)(UK)
Playstation Network Gift Card (PS4) (JP)
Playstation Network Gift Card (PS4) (Other Regions)
Playstation Plus Subscription Card (PS4) (US) 
Playstation Plus Subscription Card (PS4)(UK)
Playstation Plus Subscription Card (PS4) (JP)
Playstation Plus Subscription Card (PS4) (Other Regions)