Are you ready for some classic JRPG adventures? Look no further than Exist Archive: The Other Side of The Sky. A side-scrolling turn-based RPG from Spike Chunsoft, makers of the amazing Zero Escape and Danganrompa series and Tri-Ace, the developers that brought you the Star Ocean series.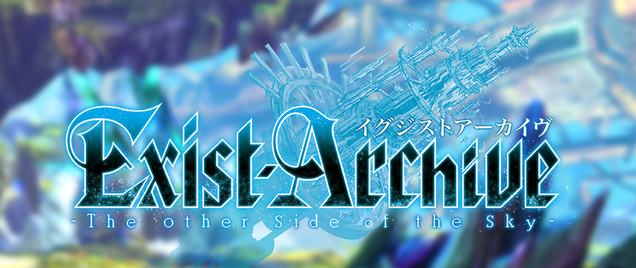 The game was revealed on Famitsu with a 14-page spread that gave plenty of details about the massive JRPG. It also comes with a batch of screenshots to gives us a good look at the game itself. Fair warning, the graphics might not be super amazing because Exist Archive is being developed with Playstation Vita in mind.
With a name like Exist Archive: The Other Side of The Sky, RPG fans can expect plenty of JRPG goodness. Starting with the gameplay mechanics, which follows the tried-and-true turn based strategy with four playable characters, reminiscent of Valkyrie Profile.
Despite playing like Valkyrie Profile, the game's design looks more in line with Star Ocean, using colorful sci-fi and beautiful nature visuals. It's basically the best combination of both Tri-Ace's library from the looks of it.
The game follows the story of 12 characters who were given immortality due to the battling gods that lives in their bodies. The main protagonist begins the story when he died  in an explosion in modern day Tokyo. He then wakes up, possessed by the gods, in the planet of Protolexia. Throughout the course of the game, the characters must battle monsters and choose who gets to return to earth while the rest remains.
The influence of Spike Chunsoft's storytelling is evident with the moral/deep choices that are prevalent in games such as Zero Escape and Danganrompa. And of course, as with Spike Chunsoft, there's bound to be some earth-shattering twist at the end of Exist Archive.
Exist Archive: The Other Side of The Sky is planned for release on Playstation 4 and Playstation Vita in Japan near the end of the year. No word on the North American localization yet but hopefully it'll come sooner than later.
Source: Tri-Ace and Spike Chunsoft's New RPG Realizes a Decade-Old Dream
Related Product Link(s):
Playstation Network Gift Card (PS4) (US) 
Playstation Network Gift Card (PS4)(UK)
Playstation Network Gift Card (PS4) (JP)
Playstation Network Gift Card (PS4) (Other Regions)