Prepare to be fultoned out because Konami has finally released Metal Gear Online for Metal Gear Solid 5: The Phantom Pain. And from the looks of it, it didn't take long for chaos, mayhem, and a whole lot of fultoning took place. It's the awesome gameplay mechanics of Metal Gear Solid 5: The Phantom Pain combined with the crazy (and often time hilarious) antics of competitive multiplayer!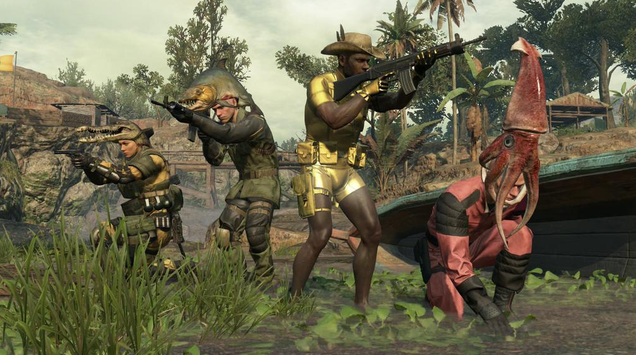 Update 1.04, which was released recently, was first made available for the Japanese region, followed by the rest world a day later. The update unlocks the Metal Gear Online portion of the game and includes "Additional Features and Enhancements for FOB missions." The update will weigh about 915MB for Playstation 4 and 380MB for Playstation 3, with sizing expected to be similar for Xbox One and Xbox 360 respectively.
A Konami representative did note that, until Metal Gear Online is fully available in the different regions, it will only have Free Roam when players go online.
The Konami UK press release states below:
"All console version Metal Gear Online servers are now up and running, and a download patch for Metal Gear Solid V: The Phantom Pain is already available. The online component is visible from the main game's menu, allowing users to experience multiplayer action within the main game's stunning open world locations.
Metal Gear Online is built around a dedicated squad-based competitive multiplayer structure. Following its conclusion with Metal Gear Solid IV: Guns of the Patriots for Playstation 3, the mode has been fully redesigned with the familiar gameplay and aesthetic styling of the acclaimed series. The online element introduces Tactical Team Operations and features a 'class system' that more uniquely defines the strength and abilities of player characters on the battlefield."
Metal Gear Solid 5: The Phantom Pain was released on September 1st, 2015. Those that purchased the game received the competitive multiplayer Metal Gear Online for free when it was released on October 5th for Playstation 3, Playstation 4, Xbox One, and Xbox 360. Unfortunately, PC players will have to wait until January 2016 before they can play Metal Gear Online.
Source: Getting Fultoned In Metal Gear Online Might Be Worse Than Getting Teabagged
Related Product Link(s):
Playstation Network Gift Card (PS4) (US) 
Playstation Network Gift Card (PS4)(UK)
Playstation Network Gift Card (PS4) (JP)
Playstation Network Gift Card (PS4) (Other Regions)
Steam Wallet Codes (US)
Steam Wallet Codes (EU)
Steam Wallet Codes (UK)
Steam Wallet Codes (MY)
Steam Wallet Codes (TH)
Steam Wallet Codes (ID)
Steam Wallet Codes (PH)
Steam Wallet Codes (SG)
Steam Wallet Codes (Asia/Middle East)
Xbox Live Gift Card (Xbox One)(JP)
Xbox Live Gift Card (Xbox One)(UK)
Xbox Live Gift Card (Xbox One)(EU)
Xbox Live Gift Card (Xbox One)(US)
Xbox Live Gift Card (Xbox One)(Other regions)