The new event "Moonlight Merriment" is about to begin!
The autumn moon shines bright, and Liyue Harbor is hard at work preparing for the traditional Moonchase Festival. The preparations for various activities based on the festival's theme are well underway.
New missions have also been added to Moonchaser. Complete them to receive BEP.
Gameplay Duration:
2021/ 09/ 27 10:00 – 2021/ 10/ 11 03:59 (Server Time)
Notes:
Enhancing Luxurious Sea-Lord during the event yields a Weapon Enhancement EXP Bonus.
After the event ends on 2021/10/11 03:59, Moonchase Charms will disappear.
Gameplay Overview:
This event is divided into three stages: "Path of Stalwart Stone", "Path of Gentle Breezes", and "Path of Austere Frost." At the beginning of each stage, the corresponding quests or challenges of the stage will become available.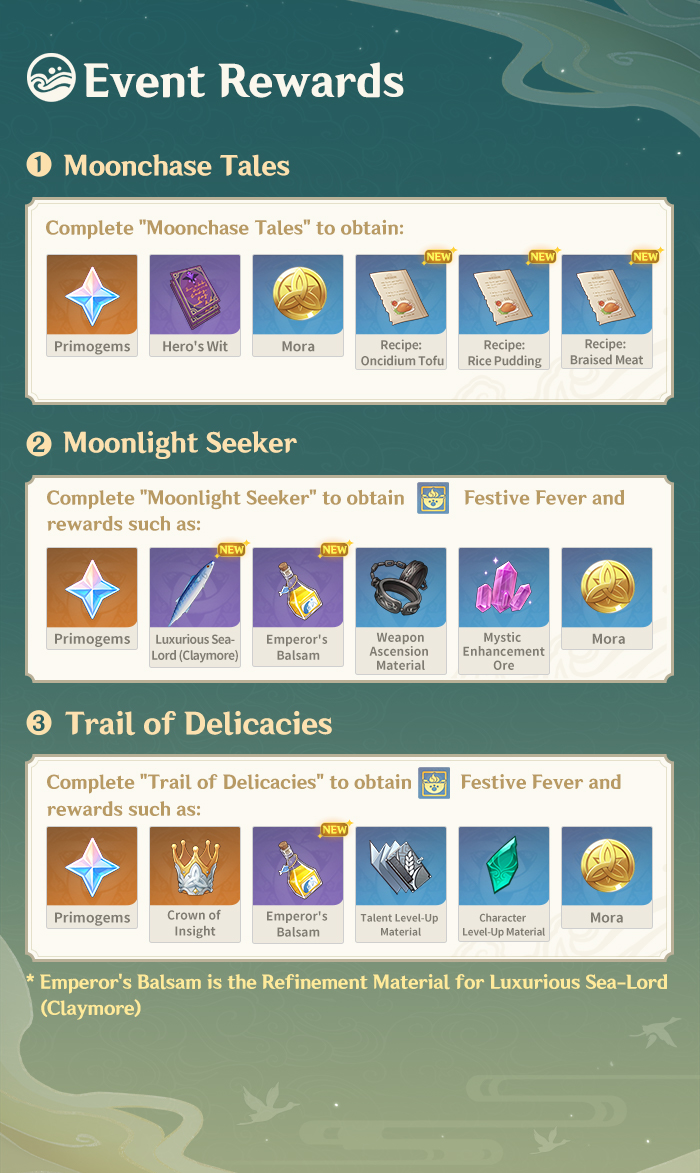 GIVEAWAY ALERT
In conjunction with the 1st Anniversary celebration of Genshin Impact, 10x Lucky Travelers will walk away with FREE 1,090 Genesis Crystal! More details, visit our Facebook page now!
Don't wait! Join Genshin impact today!!!
Genshin Impact Genesis Crystals
[table]
Genshin Impact
6480 + 1600
Genesis Crystals

Genshin Impact
3280 + 600
Genesis Crystal
Genshin Impact
1980 + 260
Genesis Crystals
Genshin Impact
980 + 110
Genesis Crystals
Genshin Impact
300 + 30
Genesis Crystals
Genshin Impact
60
Genesis Crystals
[/table]
PlayStation Network Card
[table]
PlayStation Network Card
[/table]
iTunes Gift Card
[table]
iTunes Gift Card
[/table]
Google Play Gift Card
[table]
Google Play Gift Card


[/table]
Razer Gold
[table]
Razer Gold


[/table]
For more Information:
– Genshin Impact Official Homepage
Additional Websites:
– Genshin Impact Genesis Crystals
– Genshin Impact (PS4) (Global)
– Genshin Impact (IOS) (Global)
– Genshin Impact (Android) (Global)
– OffGamers Genshin Impact (PC) (Global)
– OffGamers Genshin Impact (PC) (TW/HK/MO)
Social Media: YouTube / Instagram / Facebook / Twitter / Pinterest