Posted
April 2, 2020
in Gaming
Good Company arrives on Steam Early Access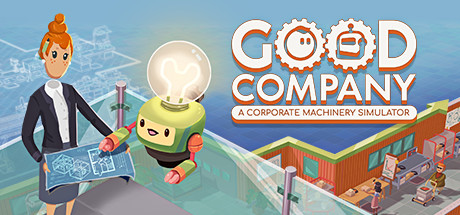 Quirky tycoon management sim "Good Company" is now available on Steam Early Access.
A new trailer released today showcases the latest gameplay footage of your soon-to-be expanding empire and the ease in which you can research upgrades, hire new workers and keep track of changing markets and your profits and losses while strategizing your next move. Watch the trailer here:


Good Company sets you up as CEO of your very own company, where dedicated fans of tycoon games will feel right at home with challenging and rewarding gameplay as you grow your staff, delegate tasks using the powerful Logistics mode and rake in enormous profits by inventing increasingly complex tech products that the public desperately craves.
Choose how you want to run your company as the game lets you set your own pace: continue to refine your ever-expanding empire and find creative and efficient ways to maximize those profits either in single-player Campaign Mode or endless Freeplay Mode.
In Campaign Mode, aspiring CEOs tackle rewarding scenario levels and bonus challenge maps while in Freeplay Mode you are free to shape your company however you want. Building a good company and mastering the art of invention, automation and expansion is the name of the game.
Get Good Company using our Steam Wallet Codes below:
Steam Wallet Codes
Steam Wallet Codes
(Global)
Steam Wallet Codes
(AE)
Steam Wallet Codes
(AU)
Steam Wallet Codes
(BR)
Steam Wallet Codes
(CA)
Steam Wallet Codes
(CO)
Steam Wallet Codes
(EU)
Steam Wallet Codes
(HK)
Steam Wallet Codes
(ID)
Steam Wallet Codes
(IN)
Steam Wallet Codes
(JP)
Steam Wallet Codes
(KR)
Steam Wallet Codes
(KW)
Steam Wallet Codes
(MY)
Steam Wallet Codes
(PE)
Steam Wallet Codes
(PH)
Steam Wallet Codes
(SA)
Steam Wallet Codes
(SG)
Steam Wallet Codes
(TH)
Steam Wallet Codes
(TR)
Steam Wallet Codes
(TW)
Steam Wallet Codes
(UA)
Steam Wallet Codes
(UK)
Steam Wallet Codes
(VN)
For more Information:
Good Company Official Homepage
Additional Websites:
OffGamers Steam Wallet Codes
OffGamers PSN Cards