Grab Your Rewards Now As Pokémon UNITE Reached 50 Million Downloads
It's time for a celebration as Pokémon UNITE reached over 50 millions downloads. To thank the players, Pokémon is giving out 2000 Aeos Tickets for free to those who logged in between December 9 to January 1.
Aeon Tickets are obtained through missions, events and the Battle Pass which can be purchased for 490 Aeos Gems. With a little extra Aeos Tickets on hand, you can finally buy that cosmetic item you have been wanting for a long time in the Aeos Emporium, be the brightest kid on the battleground. Buy item enhancers to boost stats of any existing items you have, make your Pokémon the strongest on the battlefield.
#PokemonUNITE has now been downloaded over 50 million times! As a thank you, any user who logs in between 12/9 – 1/31 will receive 2,000 Aeos Tickets.

Thank you once again for all of your support! pic.twitter.com/M8NWmigpC6

— Pokémon UNITE (@PokemonUnite) December 6, 2021
Pokémon UNITE is a free-to-play MOBA game, but same as any other, there are microtransaction included. If you are a player, you would know the process of getting enough Aeon Tickets to finally get that sweet trainer costume is tedious. For those who who has a bit of cash on hand would be able to purchase Aeos Gems to make it up quickly. Others? Maybe more grinding is needed.
The celebration reward this time will not only get returning players but also attract even more users to it. Maybe soon enough Pokémon UNITE will reach another milestone and celebrate with wealthier rewards.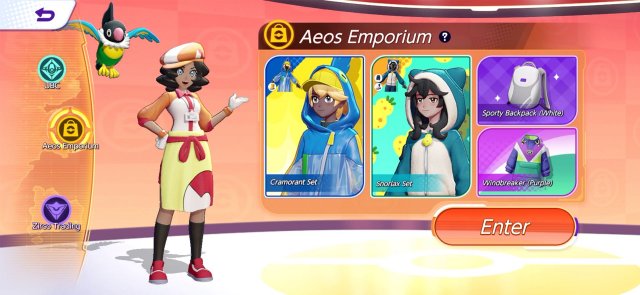 © serebii.net
There are much more items up for grab in the shop so log on the the game and grab yours now!