Posted
October 20, 2015
in Gaming
Happy 30th Birthday, Nintendo Entertainment System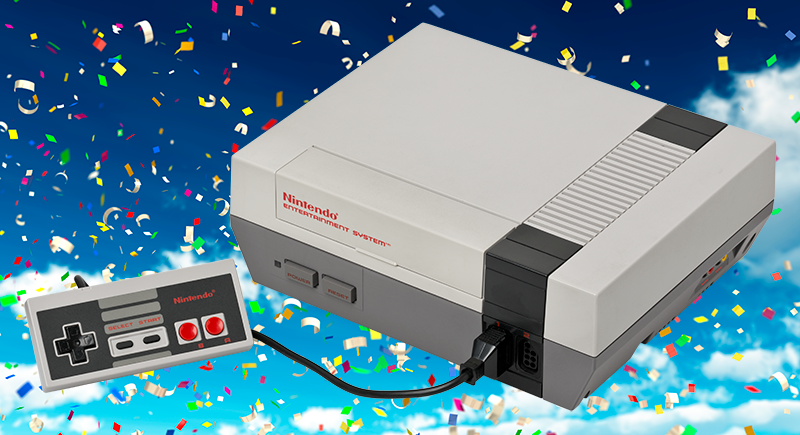 On October 18, 1985, Nintendo of America took a huge gamble, releasing a console into a North American market that seemed to have washed its hands of video games completely. Thirty years later, their hands are filthier than ever.
While Nintendo's Family Computer (Famicom) system enjoyed massive success in Japan following its 1983 launch. However, getting a video game system launched in North America following the video game crash that same year, was proving nigh impossible. Nintendo of America president (and husband to the daughter of Nintendo President Hiroshi Yamauchi) Minoru Arakawa spent a couple of years looking for buyers or partners for distributing the new console but came up empty.
But company leadership refused to let Arakawa throw in the towel. Instead, they sent an initial shipment of 100,000 Nintendo Entertainment Systems to the U.S. and had Arakawa and his team hold a limited launch event in the country's toughest market—New York City.
It was definitely tough. Retailers didn't want to sell the things—didn't think they could, even with the cool light gun and silly robot setting it apart from previous game consoles. It was only due to a desperate deal by Nintendo that the systems showed up in stores at all. The company allowed retailers to stock the units for free, only paying for the units that sold.
Between the official launch date through the holiday season, the console sold…well enough. Reports put the holiday 1985 sales numbers between 50,000 and 90,000 units—which is positive enough that the test markets would expand to other cities in early 1986, leading to a country-wide release later that year.
The entire story of what was basically a Japanese invasion and resurrection of a dead market is told comprehensively in David Sheff's outstanding book "Game Over: How Nintendo Conquered the World," required reading for anyone serious about video game history.
Long story short, the U.S. said, "No thanks," Nintendo said, "No, we insist," and the rest is legendary.
And here we are, 30 years later, enjoying the fruits of Nintendo's insistence more than ever before.
Happy Birthday, Nintendo!
Related Product Links:
Nintendo Eshop Card (US)
Nintendo Eshop Card (UK)
Nintendo Eshop Card (JP)
Nintendo Eshop Card (Other Region)
Nintendo 3DS Cash Card
Source: Kotaku