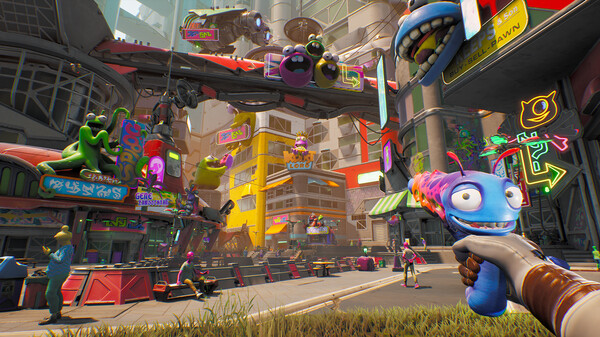 Source: High on Life on Steam
From the Co-Creator of Rick & Morty and Solar Opposites, comes High on Life.
A week after gamescom 2022 is a drop of an in-depth gameplay trailer showcasing High on Life's first mission. If you are interested, you can check it out HERE. For the short trailer, check it out HERE.
High on Life is a sci-fi first-person shooting game where you just graduated from high school, no job, no ambition and don't know what to do next. Not until the aliens decided to invade Earth and now you are destined to save Earth with your trusty companion, a talking gun.
It's friends are in danger and now you can't just leave that aside. So you decided to answer the hero's call and set on your journey as the deadliest intergalactic bounty hunter the cosmos has ever seen.
Rescue and team up with talking guns, travel through a variety of biomes from jungle paradise to cities built in an asteroid. Sharpen your skills and take down Garmantuous and his gang of alien goons. Lastly, remember your job as a bounty hunter, completes hunter challenges, meet weird and fun alien friends, learn new alien technology and more!
High on Life will be arriving on December 13 for PC and Xbox, so keep an eye out for it!
[table]
Steam Wallet Codes

[/table]
[table]
Xbox Live Gift Card

[/table]
For more Information, please visit:
High on Life Official Site
Related Link(s):
OffGamers Steam Wallet Codes
OffGamers Xbox Live Gift Card
Social Media: Website / YouTube / Instagram / Facebook / Twitter / Pinterest / Weibo