Posted
April 2, 2020
in Gaming
In Other Waters out on Switch, Coming to Steam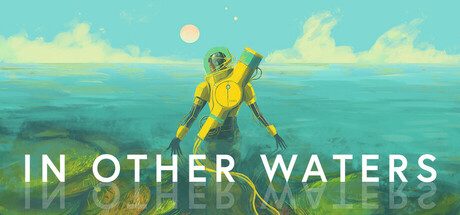 In Other Waters is an engrossing experience that will keep you intrigued from beginning to end. What starts out feeling more like an ocean planet exploration simulator quickly descends into a familiar story of humanity's greed outweighing its compassion. The rest is all too familiar, but told through the art of scanning and learning in an archaeological manner, which turns you into a helpless bystander to the horrors your race has committed. Watch the game trailer below:
In In Other Waters, players take on the role of the AI in the dive suit being worn by biologist Ellery Vas on her journey to locate an old friend who has disappeared. Your input to conversations is limited to a select few yes or no answers, none of which have a huge impact on the story, but they do help you direct your experience as to what sort of AI you are. As the story unfolds, Vas becomes less uptight, being more open with you as the AI and revealing more intimate details about her and her friend, as well as her thoughts on the ecosystems and structures you uncover. The story isn't original by any means, but the way it's told to you is, and that's what makes it stand out.
The core gameplay of In Other Waters is scanning. Using one button you can scan the environment, and then you select objects or a path forward with the joystick. You're given information about literally every point of interest in the game, with a short sentence explaining what Vas can see. As you scan each point of interest, Vas will learn more about the ocean world you're immersed in. Getting close to new lifeforms will allow you to take samples, which you can analyze back at Vas' base.
In Other Waters is available on Nintendo Switch and Steam. Get the game using our Steam Wallet Codes and Nintendo eShop Gift Cards below:
Steam Wallet Codes
Steam Wallet Codes
(Global)
Steam Wallet Codes
(AE)
Steam Wallet Codes
(AU)
Steam Wallet Codes
(BR)
Steam Wallet Codes
(CA)
Steam Wallet Codes
(CO)
Steam Wallet Codes
(EU)
Steam Wallet Codes
(HK)
Steam Wallet Codes
(ID)
Steam Wallet Codes
(IN)
Steam Wallet Codes
(JP)
Steam Wallet Codes
(KR)
Steam Wallet Codes
(KW)
Steam Wallet Codes
(MY)
Steam Wallet Codes
(PE)
Steam Wallet Codes
(PH)
Steam Wallet Codes
(SA)
Steam Wallet Codes
(SG)
Steam Wallet Codes
(TH)
Steam Wallet Codes
(TR)
Steam Wallet Codes
(TW)
Steam Wallet Codes
(UA)
Steam Wallet Codes
(UK)
Steam Wallet Codes
(VN)
Nintendo eShop Card
Nintendo eShop
Card (AU)
Nintendo eShop
Card (CA)
Nintendo eShop
Card (EU)
Nintendo eShop
Card (JP)
Nintendo eShop
Card (UK)
Nintendo eShop
Card (US)
For more Information:
In Other Waters Official Homepage
Additional Websites:
OffGamers Steam Wallet Codes
OffGamers Nintendo eShop Cards