Posted
March 23, 2020
in Gaming
Interrogation: Deceived Released on Mobile Devices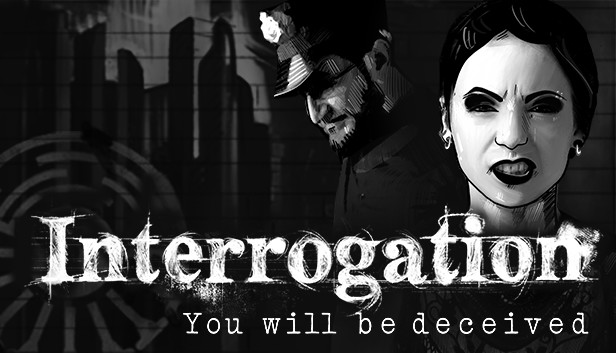 Mixtvision and Critique Gaming are super thrilled to announce that they have released their popular noir detective game Interrogation: Deceived for iOS and Android devices. Watch the trailer here:
Assuming the role of a detective tasked with stopping a cloak and dagger terrorist cell, you must navigate tense interrogation scenes and solve hard conversational puzzles through psychological manipulation.
Launching with the mobile version, Interrogation: Deceived features a brand new "Visual Novel" mode, which provides a more relaxed gaming experience without the constant fear of failure, as this mode offers the whole story without a failure state should you make unwise decisions in your effort to prevent a terrorist attack.
The Visual Novel mode joins the two already implemented difficulty settings, the moderately difficult Detective Mode – which offers tips and an increased budget – and the extra tough Interrogation Challenge, which leaves you to your own devices as you grill suspects and manage the police department's limited resources.
Interrogation: Deceived is a narratively immersive convo-puzzle game that challenges common preconceptions about highly relevant contemporary subjects like terrorism, police brutality and the power imbalances between citizens, the state and large corporations. As a police detective you must manage a special anti-terrorism taskforce charged with bringing down The Liberation Front, a sinister organization threatening the very structure of society.
Exercise your management skills in balancing your cases, team and budget, as well as the reputation of the police force as a whole. With multiple world-defining endings, every decision you make has its consequence in this immersive noir detective scenario where you must solve deep conversational puzzles with over 35 different suspects.
Practice psychological manipulation in order to gain the knowledge you seek from the suspects and remember that your decisions hold power over not only their fate but yours and the city's. Prepare yourself, you will be deceived.
Interrogation: Deceived is now available for Steam, Android and iOS. Get it using our Steam Wallet Codes, iTunes or Google Play gift cards:
Steam Wallet Codes

Steam Wallet Codes
(Global)
Steam Wallet Codes
(AE)
Steam Wallet Codes
(AU)
Steam Wallet Codes
(BR)
Steam Wallet Codes
(CA)
Steam Wallet Codes
(CO)
Steam Wallet Codes
(EU)
Steam Wallet Codes
(HK)
Steam Wallet Codes
(ID)
Steam Wallet Codes
(IN)
Steam Wallet Codes
(JP)
Steam Wallet Codes
(KR)
Steam Wallet Codes
(KW)
Steam Wallet Codes
(MY)
Steam Wallet Codes
(PE)
Steam Wallet Codes
(PH)
Steam Wallet Codes
(SA)
Steam Wallet Codes
(SG)
Steam Wallet Codes
(TH)
Steam Wallet Codes
(TR)
Steam Wallet Codes
(TW)
Steam Wallet Codes
(UA)
Steam Wallet Codes
(UK)
Steam Wallet Codes
(VN)
iTunes Gift Cards
iTunes
Gift Card (AT)
iTunes
Gift Card (AU)
iTunes
Gift Card (BE)
iTunes
Gift Card (CA)
iTunes
Gift Card (CH)
iTunes
Gift Card (CN)












iTunes
Gift Card (DE)
iTunes
Gift Card (DK)
iTunes
Gift Card (ES)
iTunes
Gift Card (FI)
iTunes
Gift Card (FR)
iTunes
Gift Card (HK)












iTunes
Gift Card (IE)
iTunes
Gift Card (IT)
iTunes
Gift Card (JP)
iTunes
Gift Card (NL)
iTunes
Gift Card (NO)
iTunes
Gift Card (PT)












iTunes
Gift Card (RU)
iTunes
Gift Card (SE)
iTunes
Gift Card (TR)
iTunes
Gift Card (UK)
iTunes
Gift Card (US)










Google Play Gift Cards
Google Play
Gift Card (AU)
Google Play
Gift Card (BR)
Google Play
Gift Card (CA)
Google Play
Gift Card (DE)
Google Play
Gift Card (HK)
Google Play
Gift Card (JP)












Google Play
Gift Card (KR)
Google Play
Gift Card (TR)
Google Play
Gift Card (UK)
Google Play
Gift Card (US)








For more Information:
Interrogation: Deceived Official Homepage
Additional Websites:
Offgamers Steam Wallet Codes
Offgamers iTunes Gift Cards
Offgamers Google Play Gift Cards