Posted
March 24, 2020
in Gaming
Iron Danger is a time manipulation RPG that releases on the 25th of March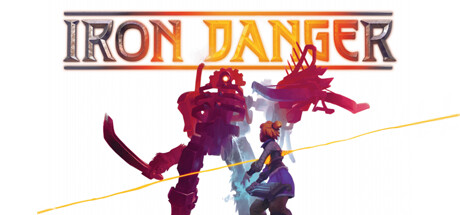 Iron Danger is announced to be released on the 25th of March for the PC. Watch the trailer here:
Iron Danger is an isometric, real-time action-RPG where you control two characters at most. The kicker is that you can rewind time whenever you want. After all, each action has its length in beats (half-second intervals) and those are recorded on a timeline. In exploration, one character follows the other and you carry everything out in real time. However, once you receive damage or when combat starts, you set actions for the characters individually — you can also manually enter time trance to launch an ambush. You use that knowledge and limitless rewinds (in the sense that you can do it as often as you want) to win fights you would definitely lose without this power.
Outside of certain spells and abilities, everything in Iron Danger interacts with the world in a very physical way. Arrows remain stuck in the air when you stop time. Every swing of sword will connect with anything in its path, targeting and friendly fire be damned. There's not much in the way passive defenses, only your HP pool and the actions you take. Naturally, this leads to a very deadly world in real time — but you play against the rules.
The story takes place in a fantasy land… that is clearly just magical Finland. The capital is named Kalevala, ferchristssake. It's under attack by the smoke-belching thrall-armies of northlander cyborgs. One such group destroyed protagonist Kipuna's town. Too bad for them, as this leads to her possessing a shard which grants her the ability to rewind time. To end the threat of Queen Lowhee's slave armies, she must assemble the shards and reactivate the mysterious ancient Auralith. The fact that each one just gives her more powers to play with is a nice bonus.
Get the game when it comes out using our steam wallet codes:
Steam Wallet Codes

Steam Wallet Codes
(Global)
Steam Wallet Codes
(AE)
Steam Wallet Codes
(AU)
Steam Wallet Codes
(BR)
Steam Wallet Codes
(CA)
Steam Wallet Codes
(CO)
Steam Wallet Codes
(EU)
Steam Wallet Codes
(HK)
Steam Wallet Codes
(ID)
Steam Wallet Codes
(IN)
Steam Wallet Codes
(JP)
Steam Wallet Codes
(KR)
Steam Wallet Codes
(KW)
Steam Wallet Codes
(MY)
Steam Wallet Codes
(PE)
Steam Wallet Codes
(PH)
Steam Wallet Codes
(SA)
Steam Wallet Codes
(SG)
Steam Wallet Codes
(TH)
Steam Wallet Codes
(TR)
Steam Wallet Codes
(TW)
Steam Wallet Codes
(UA)
Steam Wallet Codes
(UK)
Steam Wallet Codes
(VN)
For more Information:
Iron Danger Official Homepage
Additional Websites:
Offgamers Steam Wallet Codes