Posted
April 21, 2016
in Fun
Japan Brings Back The One Burger To Rule Them All
Burgers can be subjective. Some people might like pickles on theirs, some might not. Others might prefer ketchup while some just want plain cheddar cheese on theirs. Japanese fast food chain Lotteria doesn't care about what you want, they just want to stack all the ingredient they can in a single bun.
And thus, the "With Everything Burger" was born with a whopping 1,365kcal.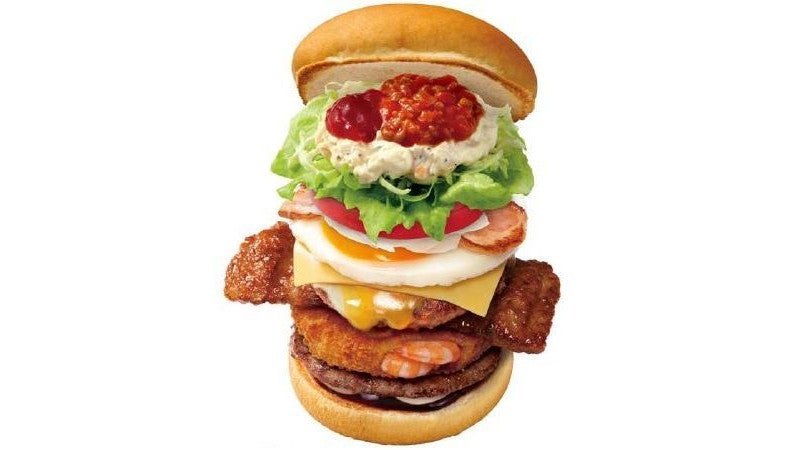 The huge mega burger consists of lettuce, cabbage, egg, a slice of cheese, a cheeseburger, a rib patty, a fried shrimp patty, a beef patty, pickles and sauces such as ketchup, mayonnaise, and teriyaki sauce.
Loretta brings the "With Everything Burger" out once a year and this time, Japanese foodies can experience the burger again on April 28. While the advertisement might make the burger looks nicely stacked, odds are you'll be a mushed up burger just like the folks below.
ロッテリアで全部のせバーガーなふ pic.twitter.com/uMUsqIJnq3

— あ (@trtr_pprn) September 5, 2013
リアの全部のせバーガー。
10段よりこちらの方が飽きないね。 pic.twitter.com/9DtWN0dPFy

— ぢーざす (@tripunisher0) May 1, 2015
Still intent on chomping down these massive burgers? You can get it any Loretta chains in Japan starting from April 28 and priced at  1,350 yen (US$12.30).
Source: Kotaku