Last Chance on Sonic Frontiers' Pre-Order Bonus Before Launch!
The blue hedgehog is finally arriving on Nov 9. Follow Sonic into a new high-speed adventure and experience Sonic like never before!
Sonic Frontiers is a 3D platformer, action-adventure game that will be available on Nintendo Switch, PlayStation 4, PlayStation 5, Xbox Series X/S, Xbox One, and Steam.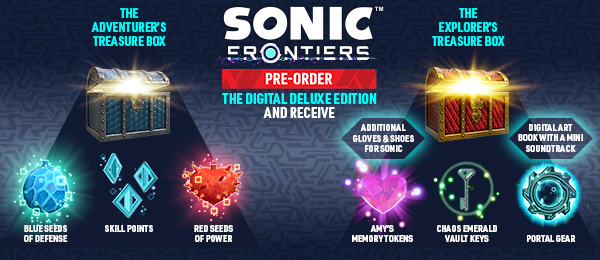 Source: Sonic Frontiers on Steam
Pre-Purchase Bonuses
There are two editions on the game which includes the Standard and Digital Deluxe version, both comes with pre-order bonuses.
Sonic Frontiers – Standard
Pre-ordering the standard edition will reward you with an Adventurer's Treasure Box that contains:
Skill Points

Red Seeds of Power

Blue Seeds of Defense
Sonic Frontiers – Digital Deluxe
Except for the Adventurer's Treasure Box, pre-ordering the digital deluxe edition will also reward you an Explorer's Treasure Box that contains:
Amy's Memory Tokens

Knuckles' Memory Tokens

Tails' Memory Tokens

Portal Gears

Chaos Emerald Vault Keys
In addition, the digital deluxe edition also comes with Gloves & Shoes for Sonic, and a Digital Art Book with a 25-track Digital Mini Soundtrack.
About the Game
Sonic Frontiers upcoming platform game developed by Sonic Team and published by Sega. Sonic and his friends encountered a worm hole, they had been brought to a mysterious place named Starfall Islands. As they are being separated, Sonic will need to set out an adventure on finding Chaos Emeralds and his friends, while also discovering the secrets of the island.
With Sonic Frontiers arriving on Nov 9, this is the last chance to pre-order the game and get those bonuses to give Sonic a boost. Don't miss the chance and buy now!
[table]
Steam Wallet Codes

[/table]
[table]
PlayStation™ Store Gift Cards
[/table]
[table]
Xbox Live Gift Card

[/table]
[table]
Nintendo eShop Card

[/table]
For more Information, please visit:
Sonic Frontiers Official Site
Related Link(s):
OffGamers Steam Wallet Codes
OffGamers PlayStation™ Store Gift Card
OffGamers Xbox Live Gift Card
OffGamers Nintendo eShop Card
Social Media: Website / YouTube / Instagram / Facebook / Twitter / Pinterest / Weibo