Lead The Inquisition With Dragon Age Inquisition: GOTY Edition
When Dragon Age: Inquisition was released, fans and critics alike lauded its vast open world, deep storylines, and engaging gameplay. Since its release, Dragon Age: Inquisition have managed to snag Game of the Year awards from numerous outlets such as IGN, EGM, Game Informer, and The Game Awards to name a few.
If you haven't played the game before, BioWare and Electronic Arts are going to entice you to jump into the Inquisition with the release of Dragon Age: Inquisition Game of the Year Edition. Check out the trailer below for a first look at the Game of the Year Edition.
With the final piece of single-player DLC recently released, the GOTY edition for Dragon Age: Inquisition couldn't have come at a better time. And to make sure that the release will be worthy of the Game of the Year moniker, BioWare have listed out 10 reasons why this release is the definitive experience of Dragon Age: Inquisition:
1. The winner of over 130 Game of the Year Awards – Critics and players agree that Dragon Age: Inquisition is an essential, must-play adventure!
2. Every DLC – This edition includes all the story and gameplay content ever released: Jaws of Hakkon, The Descent, Trespasser, Deluxe Upgrade, Spoils of the Avvar, and Spoils of the Qunari.
3.  Deeper Customization – You'll also get all the official add-ons: Spoils of the Avvar, Spoils of the Qunari, and the Deluxe Edition upgrades. These include specialized gear, legendary weapons, diverse mounts, and even unique elements to personalize your home base. 
4. Create your Inquisitor – Who will you become? Use Dragon Age: Inquisition's robust character creator to explore your imagination and shape your Inquisitor.
5. Lead the Inquisition – Recruit a team of legendary warriors and lead them against an ancient evil threatening the world.
6. Explore a vast world – The world of Thedas is enormous! Journey through lush forests, windswept coasts, arid deserts, creepy bogs, and more.
7. Your choices matter – Alliances will be forged, enemies will be made, and you're the one in control. As Inquisitor, you'll be faced with many decisions, and your choices will shape the world around you.
8. Did somebody say dragons? – Do you have what it takes to defeat the apex predators of Thedas? Succeed, and the spoils of war can aid the Inquisition. Fail, and you'll end up as barbeque.
9. Craft unique items – Collect valuable raw materials and crafting schematics to create powerful new weapons and armor. You can also name them, so you want to call that two-handed spiked maul with +30 damage to demons "Fifi", you totally can!
10. Adventure with friends – Hop online and join parties of up to four agents of the Inquisition in multiplayer mode. Choose your path and enemy faction, then battle for loot and experience points to make your agents a force to be reckoned with.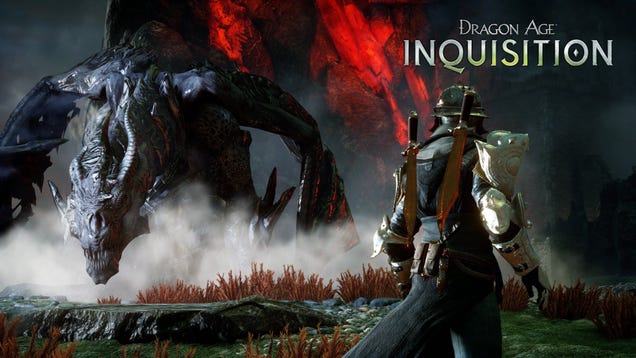 Set for an October 6th release, the Dragon Age: Inquisition Game of the Year Edition will be available for Playstation 4, Xbox One, and PC. No word on a last-generation console release or pricing, at the moment.
Source: Dragon Age Inquisition is getting a Game of the Year edition
Related Product Link(s):
Playstation Network Gift Card (PS4) (US) 
Playstation Network Gift Card (PS4)(UK)
Playstation Network Gift Card (PS4) (JP)
Playstation Network Gift Card (PS4) (Other Regions)
Steam Wallet Codes (US)
Steam Wallet Codes (EU)
Steam Wallet Codes (UK)
Steam Wallet Codes (MY)
Steam Wallet Codes (TH)
Steam Wallet Codes (ID)
Steam Wallet Codes (PH)
Steam Wallet Codes (SG)
Steam Wallet Codes (Asia/Middle East)
Xbox Live Gift Card (Xbox One)(JP)
Xbox Live Gift Card (Xbox One)(UK)
Xbox Live Gift Card (Xbox One)(EU)
Xbox Live Gift Card (Xbox One)(US)
Xbox Live Gift Card (Xbox One)(Other regions)