Posted
March 17, 2020
in Gaming
Maneater swimming to stores May 22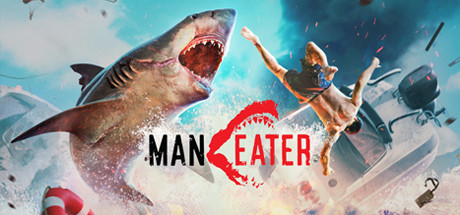 The best part about Pax is finding exciting new experiences wedged between all the sequels, remakes and rehashed ideas. One of the games that stands out this year is Maneater, a shark simulator/RPG that makes Jaws look like a kitty cat. You can finally live out that dream of being the ocean's most feared creature as you terrorize the other creatures that inhabit the water as well as the unsuspecting humans going about their lives. take a look at their trailer here:
The demo starts underwater, teaching you the basic controls while you hunt down, stun, and kill your prey. The controls feel incredibly tight even though the developers continuously mentioned the game is not in its final form. Once you get the hang of swimming around in the ocean, it's time to take your talent to South Beach and start terrorizing the human population.
There is something incredibly rewarding about jumping out of the water on to a boat whilst tearing everyone limb from limb. This game isn't for the faint of heart, because in no time at all you'll be painting the waters red with the blood of your victims.
The mission structure is incredible and keeps you moving along in a pretty remarkable way. The open ocean structure really lets you go wherever you want but, like any open world RPG, you'll be able to explore the ocean and then when you're ready. In the Pax East demo, a couple of the missions that we saw involved killing ten beach goers and taking out three coast guard boats hell bent on taking you out. You'll need to dodge their sniper fire in order to survive and send them down to Davy Jones's Locker with their boat.
Maneater has a lot of promise. It's an original title swimming in a sea of unoriginal ideas and I can't wait to sink my teeth into when it releases. Look for Man Eater on PC, PS4, XBOX One and Switch when it releases on May 22, 2020.
Rember to get the game using our Steam Wallet Codes, PSN Cards, Xbox live gift cards, and Nintendo eShop Cards here:
Steam Wallet Codes

Steam Wallet Codes
(Global)
Steam Wallet Codes
(AE)
Steam Wallet Codes
(AU)
Steam Wallet Codes
(BR)
Steam Wallet Codes
(CA)
Steam Wallet Codes
(CO)
Steam Wallet Codes
(EU)
Steam Wallet Codes
(HK)
Steam Wallet Codes
(ID)
Steam Wallet Codes
(IN)
Steam Wallet Codes
(JP)
Steam Wallet Codes
(KR)
Steam Wallet Codes
(KW)
Steam Wallet Codes
(MY)
Steam Wallet Codes
(PE)
Steam Wallet Codes
(PH)
Steam Wallet Codes
(SA)
Steam Wallet Codes
(SG)
Steam Wallet Codes
(TH)
Steam Wallet Codes
(TR)
Steam Wallet Codes
(TW)
Steam Wallet Codes
(UA)
Steam Wallet Codes
(UK)
Steam Wallet Codes
(VN)
PlayStation Network Cards
PlayStation
Network Card (AE)
PlayStation
Network Card (AT)
PlayStation
Network Card (AU)
PlayStation
Network Card (BE)
PlayStation
Network Card (BH)
PlayStation
Network Card (BR)
PlayStation
Network Card (CA)
PlayStation
Network Card (CH)
PlayStation
Network Card (DE)
PlayStation
Network Card (DK)
PlayStation
Network Card (ES)
PlayStation
Network Card (FI)
PlayStation
Network Card (FR)
PlayStation
Network Card (HK)
PlayStation
Network Card (ID)
PlayStation
Network Card (IE)
PlayStation
Network Card (IT)
PlayStation
Network Card (JP)
PlayStation
Network Card (KW)
PlayStation
Network Card (MY)
PlayStation
Network Card (NL)
PlayStation
Network Card (NO)
PlayStation
Network Card (OM)
PlayStation
Network Card (PT)
PlayStation
Network Card (QA)
PlayStation
Network Card (RU)
PlayStation
Network Card (SA)
PlayStation
Network Card (SE)
PlayStation
Network Card (SG)
PlayStation
Network Card (TW)
XBox Live Gift Cards
Xbox Live
Gift Card (AR)
Xbox Live
Gift Card (BR)
Xbox Live
Gift Card (EU)
Xbox Live
Gift Card (HK)
Xbox Live
Gift Card (JP)
Xbox Live
Gift Card (TR)
Nintendo eShop Cards
Nintendo eShop
Card (AU)
Nintendo eShop
Card (CA)
Nintendo eShop
Card (EU)
Nintendo eShop
Card (HK)
Nintendo eShop
Card (JP)
Nintendo eShop
Card (UK)
Nintendo eShop
Card (US)
For more Information:
Maneater Official Homepage
Additional Websites:
Offgamers Steam Wallet Codes
Offgamers PSN Cards
Offgamers Xbox Live Gift Cards
Offgamers Nintendo eShop Cards