Getting around in Dying Light with its parkour system is a highlight of the game, but sometimes, you just want to zip about the city of Harran with an automobile of sorts. Well, Techland has got you covered with their latest expansion DLC which gives you Dune Buggies!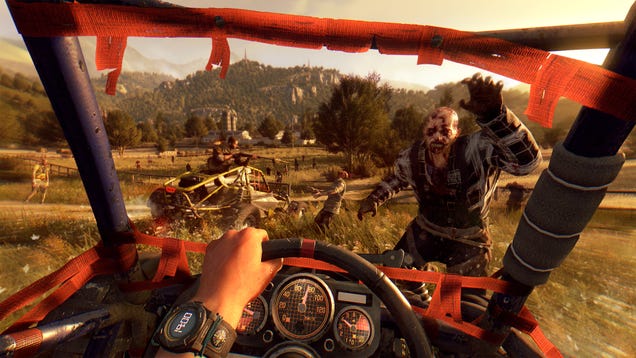 The new expansion pack, The Following, will be a "feature-heavy, story-based expansion pack" for Techland's successful open-world zombie game, released back in January. The expansion pack will be a free download for those with season passes and will also be available as a separate purchase as well.
A statement from Tymon Smektala, producer for The Following, talks a bit about what to expect from the expansion:
"For Dying Light: The Following, we're adding a number of bold game-changers to create one massive expansion. Something big that will give the game a brand-new flavor. The new map alone is the same size as all the previous maps from Dying Light combined, so there is a lot we're packing in here."
"We also kept a close eye on player feedback to help tailor what we've created here. Hopefully, people will see that this new expansion is first and foremost, for the fans."
A big addition that fans are probably looking forward to is driveable dune buggies. A brief teaser can be seen from Techland's highlight video of Dying Light's post-release content. Aside from that, expect to see more of it during a behind-closed-doors preview at Gamescom with a "full public reveal following shortly after."
Dying Light is available now for Playstation 4, Xbox One and PC. Dying Light: The Following expansion is expected to come sometime this year.
Source: Dying Light Is Getting A Big Expansion Pack With Cars
Related Product Link(s):
Playstation Network Gift Card (PS4) (US) 
Playstation Network Gift Card (PS4)(UK)
Playstation Network Gift Card (PS4) (JP)
Playstation Network Gift Card (PS4) (Other Regions)
Steam Wallet Codes (US)
Steam Wallet Codes (EU)
Steam Wallet Codes (UK)
Steam Wallet Codes (MY)
Steam Wallet Codes (TH)
Steam Wallet Codes (ID)
Steam Wallet Codes (PH)
Steam Wallet Codes (SG)
Steam Wallet Codes (Asia/Middle East)
Xbox Live Gift Card (Xbox One)(JP)
Xbox Live Gift Card (Xbox One)(UK)
Xbox Live Gift Card (Xbox One)(EU)
Xbox Live Gift Card (Xbox One)(US)
Xbox Live Gift Card (Xbox One)(Other regions)