Posted
October 9, 2015
in Gaming
Pac Man Makes His way to Minecraft
One user, known on YouTube as "MrSquishy" and known in real life as "Matt," is increasingly interested in the latter: creating other games within the world of "Minecraft." His first work to this end was an incredible re-creation of gaming classic "Pac-Man."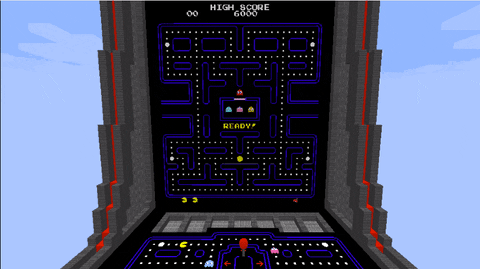 It was basically just a floating image in the world of "Minecraft." This GIF was released on the creator's Reddit account to the hungry masses of /r/Minecraft to mild fanfare.
This project takes him a year to accomplished.

He took up the challenge of creating a technically accurate version of "Pac-Man" using the original ghost AI over a year ago. He wasn't very happy with the initial attempt — it was big and clunky and horrendously inefficient — so I set it on a back burner. Every few months he have come back and worked on it for a few days or a week, using the new 1.8+ commands, the new resource pack functionality, etc.
Related Product Links:
Minecraft Game Card & Monthly Subscription
iTunes Gift Cards
Google Play Gift Cards
PlayStation Network Gift Cards
Xbox Live Gift Cards
Steam Wallet Codes
Source: Techinsider