Posted
October 2, 2015
in Gaming
Paid Downloadable Content (DLC)
In this competitive game industry, game developers are racing to provide an affordable game for gamers around the world. The question now is, "How does a game developer earn a living?" By providing paid downloadable content and in-games items such as costume, weapon, and many more.
How much is too much for DLC? According to a Kotaku writer, he got a bit miffed at the DLC for Dragon Age: Inquisition, but that's only in the realm of $25.
Alex Walker from Kotaku had conducted a survey across Steam, stumbling on Train Simulator 2016: Steam Edition. It's US$45, which is fairly standard for niche titles with a hardcore fanbase. Dovetail Games were even generous enough to have a special on the DLC. But take a closer look at the prices and amount of DLCs, see if you can spot something.
As you can see, there are 230 packs of DLC just for Train Simulator 2016.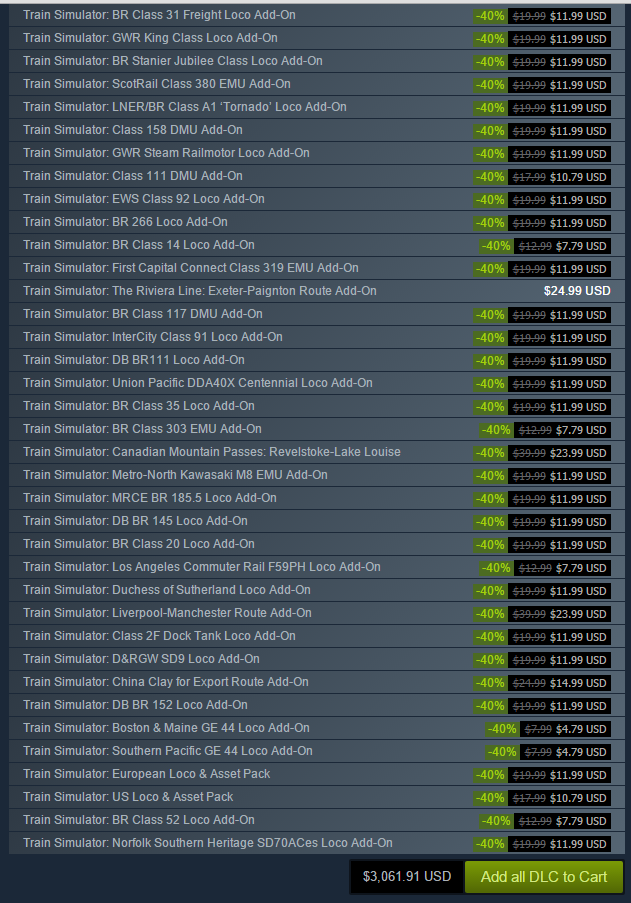 US$3061.91 in total for all of the Train Simulator 2016 DLC. And majority of these add-ons are at a 40% discount as well. This is how developers try to nickel and dime their audience with paid downloadable content.
Reload your Steam Wallet Codes with OffGamers now!
Source: Kotaku