Fans went crazy when Fallout 4 was announced during this year's E3, even more so that there will be a Pip-Boy Edition that comes with a wearable Pip-Boy that you can put your smart phone in and use with the companion app.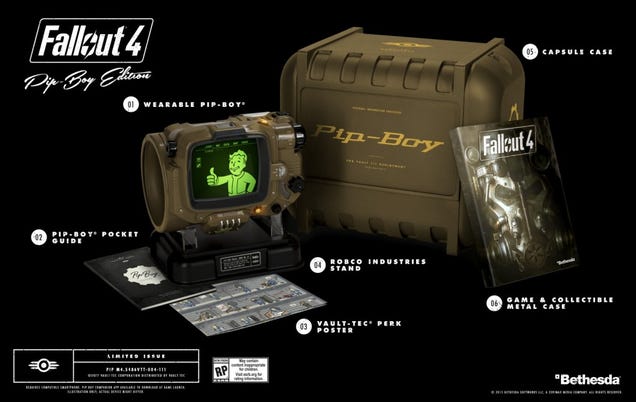 After the announcement, the Pip-Boy Edition was sold out on all fronts (GameStop, Best Buy, Amazon and EB Games), which means plenty of gamers are expecting to wear and use their Pip-Boy when the game comes out. However, a recent post from Bethesda indicates that some Vault Dwellers might not be able to use the Pip-Boy.
On their official blog, Bethesda has posted some clarified the smart phone compatibility for using the Pip-Boy. The Pip-Boy casing will come with a foam insert that will help fit the iPhone 6, iPhone 5/5S, iPhone 4/4s, Samsung Galaxy 5, and Samsung Galaxy 4. It will also come with a customisable foam insert that will help house most other popular smartphone devices of similar size/build.
Bethesda explained the reasoning behind such dimension in their blog, stating, "As we wanted to stay faithful to the dimensions of the in-game model, any smartphones larger than the models listed will not fit inside the wearable device. For these larger devices, our Pip-Boy companion app will still be available."
Those that use iPhone 6+ and of similar size or bigger will not be able to use the Pip-Boy casing, but at least you can still use the companion app for it.
Fallout 4 is set to release on November 10th 2015 and will come on Playstation 4, Xbox One, and PC. The Pip-Boy Edition was available for $120 but is sold out at the moment. Bethesda is working on getting more Pip-Boy Editions available in the coming weeks but make sure you have a compatible smart phone before you pre-order though!
Source: Your big-ass phones won't fit in Fallout 4's replica Pip-Boy.
Related Product Link(s):
Playstation Network Gift Card (PS4) (US) 
Playstation Network Gift Card (PS4)(UK)
Playstation Network Gift Card (PS4) (JP)
Playstation Network Gift Card (PS4) (Other Regions)
Steam Wallet Codes (US)
Steam Wallet Codes (EU)
Steam Wallet Codes (UK)
Steam Wallet Codes (MY)
Steam Wallet Codes (TH)
Steam Wallet Codes (ID)
Steam Wallet Codes (PH)
Steam Wallet Codes (SG)
Steam Wallet Codes (Asia/Middle East)
Xbox Live Gift Card (Xbox One)(JP)
Xbox Live Gift Card (Xbox One)(UK)
Xbox Live Gift Card (Xbox One)(EU)
Xbox Live Gift Card (Xbox One)(US)
Xbox Live Gift Card (Xbox One)(Other regions)