GTA V is enjoying longevity amongst gamers in the PC realm and that's due to all the amazing mods that modders consistently supply gamers with. This mod, however, takes the cake by putting Mario Kart maps into GTA V. That's right, you get to play Mario Kart in a GTA V game.
Just for kicks, user MrVicho13 decided to convert the entirety of Yoshi Valley from Mario Kart 8 and put it inside GTA V. With a little help by a Mr. Ray Koopa to rip the actual map, MrVicho13 managed to convert, optimized and tweaked the Yoshi Valley to make it fit into GTA V.
The result is astounding to say the least. It's so good, that YouTuber DayL made a video, testing out the track, which you can see below:
https://youtube.com/watch?v=O909ac4HNc8
While the course itself is fairly short, MrVicho13 and Ray Koopa made sure that the map looks amazing to balance its brevity. The fact that the light and shadows actually renders properly and works with the RAGE engine shows how serious these guys are about porting the Mario Kart map.
Unfortunately, this mod is only for single player mode, as it's impossible to implement such a mod for multiplayer (think of all the lawsuits from Nintendo that Rockstar has to deal with!). The other thing, of course, is that it's only available for PC players, so console players, unfortunately, you're out of luck.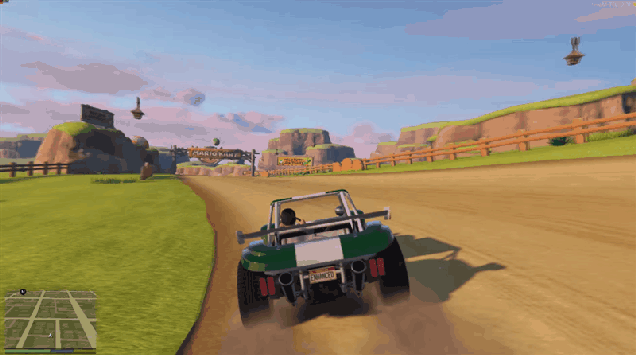 The good news, though, is that MrVicho13 has plans to port more maps from Mario Kart 8 into GTA V. So, expect more karting mod madness in the future. To play the mod, players will need the FiveM mod and download the actual map here. Mix that up with Mario Kart skins from this mod and you got yourself a Mario Kart party!
Grab the GTA Online Great White Shark Cash Card for and start building your empire by buying up all the guns and cars you'll need.
[table]
[/table]
Source: GTA 5 Mod Turns The Game Into Mario Kart
Related Product Link(s):
Playstation Network Gift Card (PS4) (US) 
Playstation Network Gift Card (PS4)(UK)
Playstation Network Gift Card (PS4) (JP)
Playstation Network Gift Card (PS4) (Other Regions)
Steam Wallet Codes (US)
Steam Wallet Codes (EU)
Steam Wallet Codes (UK)
Steam Wallet Codes (MY)
Steam Wallet Codes (TH)
Steam Wallet Codes (ID)
Steam Wallet Codes (PH)
Steam Wallet Codes (SG)
Steam Wallet Codes (Asia/Middle East)
Xbox Live Gift Card (Xbox One)(JP)
Xbox Live Gift Card (Xbox One)(UK)
Xbox Live Gift Card (Xbox One)(EU)
Xbox Live Gift Card (Xbox One)(US)
Xbox Live Gift Card (Xbox One)(Other regions)