The Dark Knight is back, bigger than ever and gamers around the world are busy pummeling criminals on the street of Gotham and trying to take down Scarecrow's dastardly plans.
We know playing as Batman can be a bit hard sometimes, so Kotaku compiled a list of gaming tips for playing Batman: Arkham Knight. We at OffGamers, want to share some of the best tips with our fans!
 Arkham Knight Is A Dark Game. Literally.
There's no doubt that Batman faces his darkest adventure yet on Arkham Knight, but we didn't think that Rocksteady would take that dark approach literally! When starting the game, don't forget to adjust the brightness setting to a reasonably level so that you don't mess up during combat or stealth moments because it was too dark. This also lets you be more immersed in the amazingly detailed world that Rocksteady has created. Another quick tip, turn subtitles so that you don't miss out on important story bits.
Learn To Drive And Use The Batmobile
For some reason or other, Rocksteady thought it be a good idea to not follow standard driving mechanics. Buttons that you would normally associate with braking is actually to launch weapons. Best to go through the tutorial to familiarize yourself with the hybrid car/tank Batmobile before driving on the streets of Gotham.

Medic! Medic! Take Out The Medic!
The enemies in Arkham Knight has been greatly varied to give the Dark Knight a run for his money. One particular enemy variant that will give you plenty of trouble are the Medics. With their ability to revive downed enemies, these guys will definitely make your battles harder than it needs to be. Best advice, before engaging enemies, scan for the medics and take them out first.
Batman Is All About Fear Multi-Takedowns
A new form of takedown in Arkham Knight lets you take advantage of the shock and awe that enemies feel when Batman comes swooping down. The Fear Multi-Takedowns, when fully upgraded, can knock out as many as five enemies through chained QTEs. With mobs of bad guys roaming the streets of Gotham, it's a smart idea to master the multi-takedowns to thin the enemy mobs.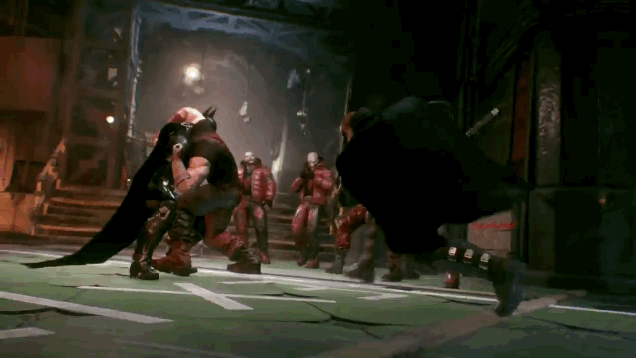 Get The Side Missions Done
Batman Arkham Knight is a really big game. Even overwhelming to some. So it's no surprise that some gamers would just want to focus on the campaign and power through it to see how the story ends between Batman and the Arkham Knight. The thing is, if you want to get the full ending for Batman: Arkham Knight, you'll need to complete 100% of the game. Even the annoying Riddler missions. So, as soon the sidequests starts popping up, best to tackle them as soon as possible. Some side mission won't open up till you've unlock certain upgrades or when you receive new gear. Completing the side mission will take a good chunk of your time but at least it will be fun!
Batman: Arkham Knight is out now on Playstation 4, Xbox One and PC.
Source: Tips for Playing Batman: Arkham Knight
Related Product Link(s):
Playstation Network Gift Card (PS4) (US) 
Playstation Network Gift Card (PS4)(UK)
Playstation Network Gift Card (PS4) (JP)
Playstation Network Gift Card (PS4) (Other Regions)
Steam Wallet Codes (US)
Steam Wallet Codes (EU)
Steam Wallet Codes (UK)
Steam Wallet Codes (MY)
Steam Wallet Codes (TH)
Steam Wallet Codes (ID)
Steam Wallet Codes (PH)
Steam Wallet Codes (SG)
Steam Wallet Codes (Asia/Middle East)
Xbox Live Gift Card (Xbox One)(JP)
Xbox Live Gift Card (Xbox One)(UK)
Xbox Live Gift Card (Xbox One)(EU)
Xbox Live Gift Card (Xbox One)(US)
Xbox Live Gift Card (Xbox One)(Other regions)