Posted
August 11, 2022
in Gaming
Race through the Sky-High Sundae course in Mario Kart today!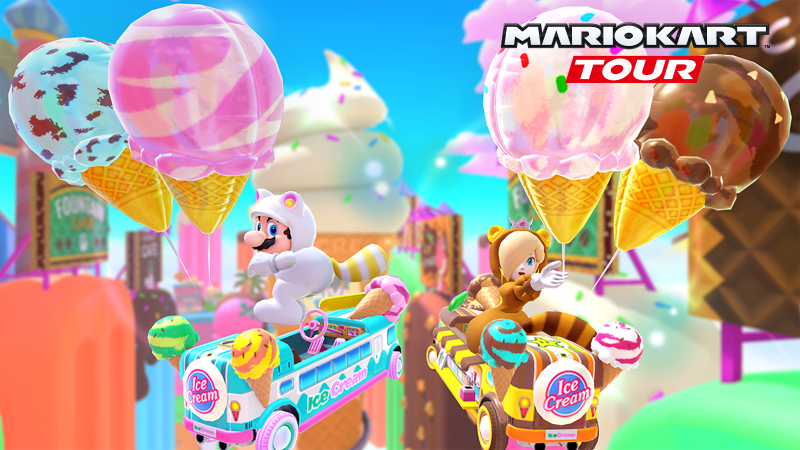 Source: Nintendo Official Site
Scoop up some delicious sundae this summer in Mario Kart Tour and Mario Kart 8 Deluxe!
Mushroom Kingdom has prepared a Sky-High Sundae course for the Sundae Tour. This limited-time course in the Mario Kart Tour game (Android & iOS) will only last until August 23, 2022, 10:59pm PT.
Race through sundaes (not for licking), and look out for drivers like White Tanooki Mario, Brown Tanooki Rosalina, Penguin Toad, and Penguin Toadette in the pipes. Even karts and gliders has transformed into some sweet and delicious sundaes. There will also be a new delectable Ice Cream Mii Racing Suit too.
The Sky-High Sundae course in the Sundae Tour is available for both Mario Kart Tour on mobile (Android & iOS) and Mario Kart 8 Deluxe on Nintendo Switch. For the later, the course is a part of the Mario Kart 8 Deluxe – Booster Course Pass, which you can get from the Nintendo eShop. Those who has activated a Nintendo Switch Online + Expansion Pack membership will have access to the course at no additional cost.
For more Information, please visit:
Nintendo Official Site
Related Link(s):
OffGamers iTunes Gift Card
OffGamers Google Play Gift Card
OffGamers Nintendo eShop Card
Social Media: Website / YouTube / Instagram / Facebook / Twitter / Pinterest / Weibo