It's finally out! The PC Patch that fans deserved has finally come to Batman: The Arkham Knight! As Kotaku reported, the patch went live recently with the announcement coming from Warner Bros Interactive's official channel. Those that still have the game can download the patch and hopefully see some improvements on the game's performance.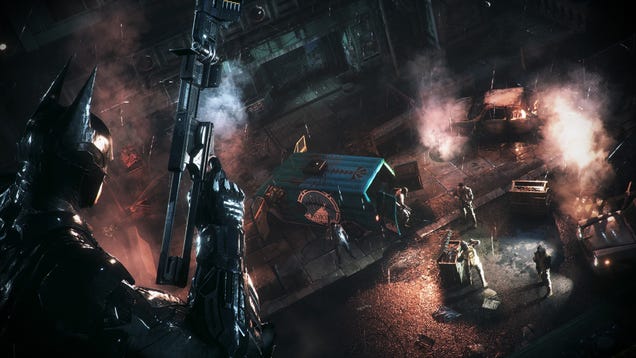 A detailed list of fixes that's included with the update is as follows:
Reduced frame rate hitches
Optimizations for system memory and VRAM usage
Improved performance on all GPUs (requires the latest drivers)
More Comprehensive In-Game Settings
Fixed low resolution texture bugs
Fixed hitches when running on mechanical hard drives (HDD)
In addition to the above, we're continuing to work on the following for future updates:
Adding support for SLI and Crossfire
Adding support for the latest DLC & Season Pass content
Adding support for additional updates such as Photo Mode
Continued improvements and bug fixing for a Windows 7 specific memory issue that occurs on configurations with 8GB of system RAM and some NVIDIA GPUs during extended game play
Continued improvements for Windows 10 specific issues on systems with some AMD GPUs
The update should come as a boon to players who have been suffering from multiple issues that puts the game nearly unplayable at times due to low frame rates and constant stuttering. The PC port was such a mess, Warner Bros. had to put a halt on the sale of Arkham Knight on Steam due to the overwhelming backlash from fans.
Previously, the patch had appeared on Steam for those that opted for the beta Version of Batman: Arkham Knight but was immediately removed. Early reports claim that the patch did provide significant improvements to the game. Hopefully with the patch fully released, the issues plaguing Batman: Arkham Knight will be resolved and Warner Bros. can resume selling the game for PC.
Batman: Arkham Knight is available for Playstation 4, Xbox One, and PC. Currently, the PC sales are being withheld indefinitely, so gamers looking to get their Dark Knight fix should look into the console editions for now.
Source: Arkham Knight PC Patch Is Finally Out
Related Product Link(s):
Playstation Network Gift Card (PS4) (US) 
Playstation Network Gift Card (PS4)(UK)
Playstation Network Gift Card (PS4) (JP)
Playstation Network Gift Card (PS4) (Other Regions)
Steam Wallet Codes (US)
Steam Wallet Codes (EU)
Steam Wallet Codes (UK)
Steam Wallet Codes (MY)
Steam Wallet Codes (TH)
Steam Wallet Codes (ID)
Steam Wallet Codes (PH)
Steam Wallet Codes (SG)
Steam Wallet Codes (Asia/Middle East)
Xbox Live Gift Card (Xbox One)(JP)
Xbox Live Gift Card (Xbox One)(UK)
Xbox Live Gift Card (Xbox One)(EU)
Xbox Live Gift Card (Xbox One)(US)
Xbox Live Gift Card (Xbox One)(Other regions)