Posted
March 20, 2020
in Gaming
Rhythm of the Gods hit shelves 23rd March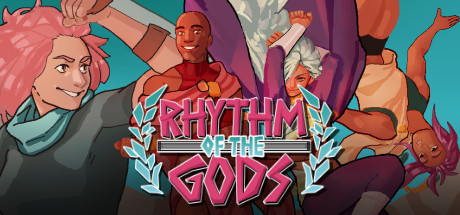 Rhythm of the Gods is an upcoming, music-driven action game from Lyrelark, a small independent game studio that was founded in 2018. It was founded by a group of NUA graduates who are based in Norwich, England. Their creation will be available for Android, Switch, and PC among other platforms on 23rd March. Watch the trailer below:
It's an auto-runner and rhythm-based action game that's inspired by Ancient Greece. It will see players take control of Lyrik – I see what they've done there – who is the strongest mortal warrior. Lyrik is tasked with solving all of the problems the mortal realm is faced with.
To do so, you'll have to slide, jump and slash your way through a variety of levels in time to the music. It's the usual setup you might be familiar within this type of game where it's important to do the right action at the correct time with the music acting as an indicator to help you nail it.
The game has two modes with the Campaign taking place over four separate levels that are split into two parts. Firstly, you'll batter your way through a plethora of mythological enemies who are out to impress their Gods. Perform well enough and you'll face the Gods themselves in a battle of rhythm.
Once you've completed the Campaign there is also a Marathon Mode which is an endless version of Rhythm of the Gods that's procedurally generated. Here you'll be given a different set of moves each time to make each attempt feel fresh. Regardless of where you play, you'll be listening to original music that's been composed for the game by Nathan Fitzpatrick.
Rhythm of the Gods will be available on Google Play, Steam, and the Nintendo Switch eShop on the 23rd March. Use our Google Play Gift Cards, Nintendo eShop Cards, and Steam Wallet Codes below:
Google Play Gift Cards
Google Play
Gift Card (AU)
Google Play
Gift Card (BR)
Google Play
Gift Card (CA)
Google Play
Gift Card (DE)
Google Play
Gift Card (HK)
Google Play
Gift Card (JP)












Google Play
Gift Card (KR)
Google Play
Gift Card (TR)
Google Play
Gift Card (UK)
Google Play
Gift Card (US)








Nintendo eShop Cards
Nintendo eShop
Card (AU)
Nintendo eShop
Card (CA)
Nintendo eShop
Card (EU)
Nintendo eShop
Card (HK)
Nintendo eShop
Card (JP)
Nintendo eShop
Card (UK)
Nintendo eShop
Card (US)
Steam Wallet Codes

Steam Wallet Codes
(Global)
Steam Wallet Codes
(AE)
Steam Wallet Codes
(AU)
Steam Wallet Codes
(BR)
Steam Wallet Codes
(CA)
Steam Wallet Codes
(CO)
Steam Wallet Codes
(EU)
Steam Wallet Codes
(HK)
Steam Wallet Codes
(ID)
Steam Wallet Codes
(IN)
Steam Wallet Codes
(JP)
Steam Wallet Codes
(KR)
Steam Wallet Codes
(KW)
Steam Wallet Codes
(MY)
Steam Wallet Codes
(PE)
Steam Wallet Codes
(PH)
Steam Wallet Codes
(SA)
Steam Wallet Codes
(SG)
Steam Wallet Codes
(TH)
Steam Wallet Codes
(TR)
Steam Wallet Codes
(TW)
Steam Wallet Codes
(UA)
Steam Wallet Codes
(UK)
Steam Wallet Codes
(VN)
For more Information:
Rhythm of the Gods Twitter
Additional Websites:
Offgamers Steam Wallet Codes
Offgamers Nintendo eShop Cards
Offgamers Google Play Gift Cards