Posted
March 17, 2020
in Gaming
RPG/Shooter hybrid Outriders Revealed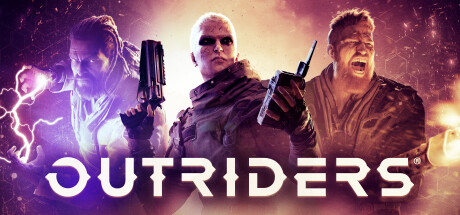 In the not-so-distant future, a dying Earth has caused its inhabitants to look for a new planet to call home. After decades of space travel that leave its passengers suspended in time, the bold group given this monumental task sets foot on a new world. At first glance, this faraway planet is idyllic, lush, and peaceful — a place where humans can feel right at home. But not everything is as it seems, and this new world soon turns out to be teeming with hostile creatures and mysterious forces beyond human control. Watch the trailer for Outriders below:
Outriders, the forthcoming co-op shooter from developer People Can Fly (Bulletstorm, Gears of War: Judgment) and publisher Square Enix, definitely gives off some familiar vibes. Due out this holiday season and making its debut on Sony and Microsoft's next-gen platforms (along with PlayStation 4, Windows PC, and Xbox One), Outriders follows the titular group that's traveled to the planet Enoch ahead of everyone else in hopes of setting up a habitable place for the survivors of the human race. What they find is a mysterious signal and a world marred by devastating storms called "anomalies" that infect and destroy the crew. Before long, there's a mutiny as the infected are shunned, and in the ensuing scuffle our daring hero is mortally wounded, leading to another stint in suspended animation. When they wake up, decades have passed, and Enoch has become a war zone.
Described as a very ambitious RPG shooter, Outriders has been in development for about four years — or since right around the time of the studio's split with former parent company Epic Games. After working with Epic on the Gears of War series and Fortnite's Save the World mode, PCF wanted to get back to making its own games. Enter Outriders, a sci-fi universe built from scratch that grafts RPG elements onto its third-person shooter backbone.
Its visual identity was described as "sci-fi meets savagery," with a structure that gives players "a lot of freedom," said game director Bartek Kmita. From the opening character creator to skill trees, difficulty options, co-op capabilities (you can play alone or with up to two pals), and different classes, Outriders does a lot to make you feel like you're in control of how you play — even if many of its ideas have been seen before.
Outriders launch in late 2020 during the holiday season on PS5, PS4, Xbox X, Xbox live, and Steam. Be sure to get the game using our PSN Cards, xBox Live Gift Cards, and Steam Wallet Codes below:
PlayStation Network Cards
PlayStation
Network Card (AE)
PlayStation
Network Card (AT)
PlayStation
Network Card (AU)
PlayStation
Network Card (BE)
PlayStation
Network Card (BH)
PlayStation
Network Card (BR)
PlayStation
Network Card (CA)
PlayStation
Network Card (CH)
PlayStation
Network Card (DE)
PlayStation
Network Card (DK)
PlayStation
Network Card (ES)
PlayStation
Network Card (FI)
PlayStation
Network Card (FR)
PlayStation
Network Card (HK)
PlayStation
Network Card (ID)
PlayStation
Network Card (IE)
PlayStation
Network Card (IT)
PlayStation
Network Card (JP)
PlayStation
Network Card (KW)
PlayStation
Network Card (MY)
PlayStation
Network Card (NL)
PlayStation
Network Card (NO)
PlayStation
Network Card (OM)
PlayStation
Network Card (PT)
PlayStation
Network Card (QA)
PlayStation
Network Card (RU)
PlayStation
Network Card (SA)
PlayStation
Network Card (SE)
PlayStation
Network Card (SG)
PlayStation
Network Card (TW)
XBox Live Gift Cards
Xbox Live
Gift Card (AR)
Xbox Live
Gift Card (BR)
Xbox Live
Gift Card (EU)
Xbox Live
Gift Card (HK)
Xbox Live
Gift Card (JP)
Xbox Live
Gift Card (TR)
Steam Wallet Codes

Steam Wallet Codes
(Global)
Steam Wallet Codes
(AE)
Steam Wallet Codes
(AU)
Steam Wallet Codes
(BR)
Steam Wallet Codes
(CA)
Steam Wallet Codes
(CO)
Steam Wallet Codes
(EU)
Steam Wallet Codes
(HK)
Steam Wallet Codes
(ID)
Steam Wallet Codes
(IN)
Steam Wallet Codes
(JP)
Steam Wallet Codes
(KR)
Steam Wallet Codes
(KW)
Steam Wallet Codes
(MY)
Steam Wallet Codes
(PE)
Steam Wallet Codes
(PH)
Steam Wallet Codes
(SA)
Steam Wallet Codes
(SG)
Steam Wallet Codes
(TH)
Steam Wallet Codes
(TR)
Steam Wallet Codes
(TW)
Steam Wallet Codes
(UA)
Steam Wallet Codes
(UK)
Steam Wallet Codes
(VN)
For more Information:
Outriders Official Homepage
Additional Websites:
Offgamers Steam Wallet Codes
Offgamers PSN Cards
Offgamers Xbox Live Gift Cards