Join the Freelance Police on a bizarre adventure from the North Pole to the Fountain of Youth, from outer space to Hell and back.
Sam is a six-foot canine detective with a nose for justice. Max is a hyperkinetic rabbity-thing with a taste for mayhem. The detective duo is now back in the remastered of Sam & Max: Beyond Time and Space (originally named Sam & Max: Season Two).
In this five-episode collection of interconnected cases, Sam & Max are back on the crime beat in a showdown with Santa Claus, a race to subdue a giant volcano, and a face-off with a Eurotrash vampire. And then things get even weirder. Zombies will dance. Mariachis will sing. A giant battle robot will trash the streets. And when their friends' lives are on the line, Sam & Max will risk their very souls to set things right. —— Official Game Description
The episodic graphic adventure video game of Sam & Max first started in the late 2006 and early 2007 with their release of Sam & Max: Season One (now renamed to Sam & Max Save the World). In season one, there are 6 episodes and players will take control an anthropomorphic dog named Sam to explore the world and solve a series of puzzles using a simple point-and-click interface. The game also got a remaster from Skunkape Games which was released on Xbox One, Nintendo Switch, Steam and Microsoft Windows.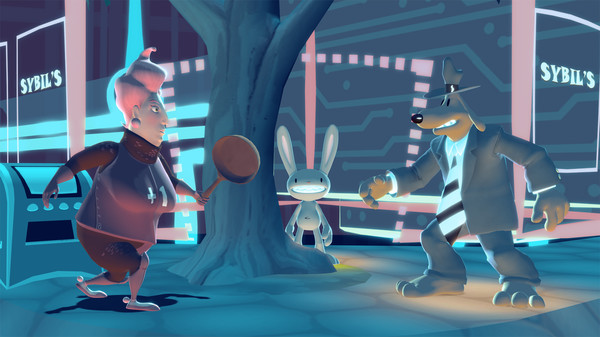 Oh boy, you have no idea how much time I used to solve the puzzles when I was a kid and still end up not solving it. Time for a rematch and see if my brain has grown bigger after these years. If you never heard of the game, I really recommend you to try it. Since it's episodic, it's better to start with Sam & Max Save the World. The puzzle itself is not too difficult but does require some out of the box thinking and humor.
Sam & Max Save the World always have great graphics and gameplay and it just got better with the remastered, so I'm excited to see how it goes for Sam & Max: Beyond Time and Space Remastered. The game will be released on December 8 on Xbox One, Nintendo Switch, and Steam.
For more information, Please visit:
Sam & Max Skunkape Games Official Website
Related Link(s):
OffGamers Xbox Live Gift Card
OffGamers Nintendo eShop Card
OffGamers Steam Wallet Codes
Social Media: Website / YouTube / Instagram / Facebook / Twitter / Pinterest