Posted
April 9, 2020
in Gaming
Snake Core releases on Android, coming soon to Steam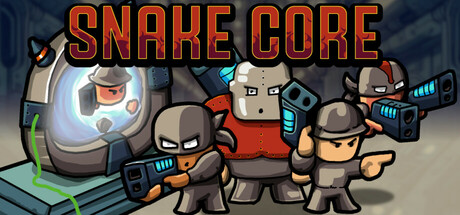 Snake Core, which was announced by OrangePixel a month ago, is now available for Android after previously releasing on iOS. The game is a nod to 'Snake' the classic Nokia game where you try and grow your snake by connecting dots. Watch the trailer below:
As your snake grows and its length extends further it becomes much easier to crash into yourself. There wasn't really anything to fight, you just had to dodge your own body.
The concept in Snake Core is very similar to the original Snake, but instead of collecting dots, you're "recruiting" soldiers to add to your army. Adding to the soldier conga line makes you more dangerous because you'll be able to bash some alien skulls in.
Your goal is to grab as many soldiers as you can and march your way through a facility. As you progress, you'll encounter numerous enemies for you to deal with.
Once you finish off the enemies, then you will be greeted by the boss of the game, the Alien Overlord. They're not a particularly nice entity and wants nothing more than to give you trouble. So take your crew and show him who the real boss is, and then celebrate your hard-fought victory.
One of the neat things is that there are no two routes that are alike. Each one provides different paths to the Alien Overlord. This will make the experience unique every time, so the game should stay feeling fresh for while longer.
Also, Snake Core is really easy to pick up and play, so you don't have to worry about challenging yourself too hard if you want a more casual experience. If it's just one of those days that you want to beat the tar out of aliens, but want to do so with ease, then this is definitely a solid choice of game.
Snake Core is available on the App Store and Google Play for $2.99. It will be coming to Steam soon.
Get the game using our Steam Wallet Codes, iTunes gift cards, or Google Play gift cards below:
Steam Wallet Codes
Steam Wallet Codes
(Global)
Steam Wallet Codes
(AE)
Steam Wallet Codes
(AU)
Steam Wallet Codes
(BR)
Steam Wallet Codes
(CA)
Steam Wallet Codes
(CO)
Steam Wallet Codes
(EU)
Steam Wallet Codes
(HK)
Steam Wallet Codes
(ID)
Steam Wallet Codes
(IN)
Steam Wallet Codes
(JP)
Steam Wallet Codes
(KR)
Steam Wallet Codes
(KW)
Steam Wallet Codes
(MY)
Steam Wallet Codes
(PE)
Steam Wallet Codes
(PH)
Steam Wallet Codes
(SA)
Steam Wallet Codes
(SG)
Steam Wallet Codes
(TH)
Steam Wallet Codes
(TR)
Steam Wallet Codes
(TW)
Steam Wallet Codes
(UA)
Steam Wallet Codes
(UK)
Steam Wallet Codes
(VN)
iTunes Gift Cards

iTunes
Gift Card (AT)
iTunes
Gift Card (AU)
iTunes
Gift Card (BE)
iTunes
Gift Card (CA)
iTunes
Gift Card (CH)
iTunes
Gift Card (CN)
iTunes
Gift Card (DE)
iTunes
Gift Card (DK)
iTunes
Gift Card (ES)
iTunes
Gift Card (FI)
iTunes
Gift Card (FR)
iTunes
Gift Card (HK)
iTunes
Gift Card (IE)
iTunes
Gift Card (IT)
iTunes
Gift Card (JP)
iTunes
Gift Card (NL)
iTunes
Gift Card (NO)
iTunes
Gift Card (PT)
iTunes
Gift Card (RU)
iTunes
Gift Card (SE)
iTunes
Gift Card (TR)
iTunes
Gift Card (UK)
iTunes
Gift Card (US)
Google Play Gift Cards
Google Play
Gift Card (AU)
Google Play
Gift Card (BR)
Google Play
Gift Card (CA)
Google Play
Gift Card (DE)
Google Play
Gift Card (HK)
Google Play
Gift Card (JP)
Google Play
Gift Card (KR)
Google Play
Gift Card (TR)
Google Play
Gift Card (UK)
Google Play
Gift Card (US)
For more Information:
Snake Core Official Homepage
Additional Websites:
OffGamers Steam Wallet Codes
OffGamers iTunes Gift Cards
OffGamers Google Play Gift Cards