Splatoon 3 Direct | New Game Preview
Nintendo has just released a new 30 minutes long video presentation about the gameplay and details of Splatoon 3. In this video preview, you will be able to catch a sneak peak of the newest battle stages, maneuvers, weapons and new game modes!
Highlights of Splatoon 3 Direct
Return of Mammalians
A whole new Story Mode filled with secrets of Alterna, the Fuzzy Ooze and battles with the Octarian Army. Play as the new recruit of the New Squidbeak Splatoon, Agent 3, along with a Smallfry buddy. Explore the story that's full of twists and turns.
Improved Turf War Gameplay
Turf War is the natural pastime for Splatsville's citizens. Dividing into two teams of four, those who inked most turf within three minutes wins. New techniques such as the Squid Surge and Squid Roll has been introduced to make the battle more intense.
Salmon Run
Up to four players will work together and collect Power Eggs from the Salmonids advancing from them. Players can play Salmon Run anytime and get encountered by Boss Salmonids, including Slammin' Lid and Big Shot. Watch out for the King Salmonid, Cohozuna. The player's tank will become an Egg Canon and will have to collect Golden Eggs to deal massive damage to it. Defeat it before the Salmonids invade the city of Inklings and Octolings!

Source: Splatoon 3 on Nintendo YouTube
New and Returning Battle Stages
Splatlands: Eeltail Alley, Scorch Gorge, Mincemeat Metalworks, Undertow Spillway, Hagglefish Market
Greater Inkopolis: Museum d'Alfonsino, Hammerhead Bridge, Mahi-Mahi Resort
Up to 12 stages will be available at launch and more will be added in free post-launch updates.
The Deep Cut Trio
The trio hosts of Splatsville news program, Anarchy Splatcast, will be providing battle stages information as well as other news bulletins. The news can also be read while exploring Splatsville.
Tableturf Battle
Carry out a 1v1 competitive card battle spinoff of Turf War in the vacant lot of Tableturf Battle Dojo. Ink different shapes with different cards. Charge up power and unleash special comeback attack. Collect over 150 cards and dominate the dojo.

Source: Splatoon 3 on Nintendo YouTube
The Splatlands' Main Weapons
Tri-Stringer, Splatana Wiper and all main weapon types from previous Splatoon games.
New Special Weapons
Tacticooler, Wave Breaker, Reefslider and the return so special weapons from previous Splatoon games such as the Tenta Missiles, Inkjet, Ink Storm, Ultra Stamp and Booyah Bomb.
Battle Modes
Anarchy Battles come in solo and team where players compete for rankings in objective-based battles. Four separate modes will be in rotation: Splat Zones, Tower Control, Rainmaker and Clam Blitz.
Additionally, there are other new features such as the lobby and customization with catalog. For the full list of highlights, click here.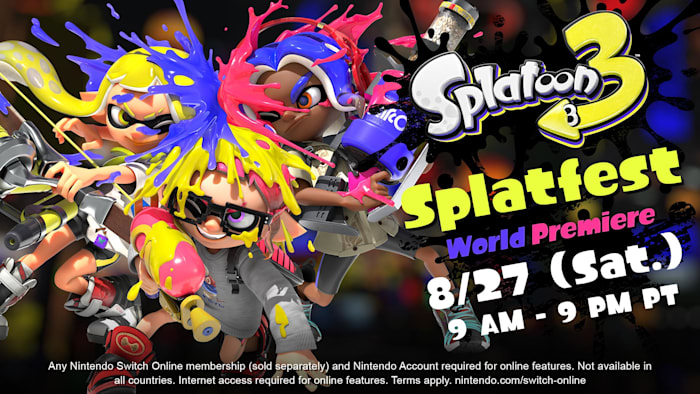 Source: Splatoon 3 on Nintendo Store
Splatfests Return
Players online will vote for their favorite choice out of the three announced theme and teams will be distributed based on the choices. Winners will be decided via battles over a set period of time. There will be two phases of this online event. In the first half, three teams will compete in 4v4 Turf War battles; while the second half,  the new Tricolor Turf War battles will begin, and three teams will fight on each other all at the same time.
The multiplayer event Splatfest will also be held on August 27 which offers Nintendo Switch owners the chance to play in a free global Splatoon 3 event before the full game launches on September 9. The free demo is available in Nintendo eShop starting on August 18. Players will also be able to try out the new Tricolor Turf War battles.
Splatoon 3 will be launching on September 9 so get your Nintendo eShop Card on OffGamers and pre-order the game now!
[table]
Nintendo eShop Card

[/table]
For more Information, please visit:
Nintendo Official Site
Related Link(s):
OffGamers Nintendo eShop Card
Social Media: Website / YouTube / Instagram / Facebook / Twitter / Pinterest / Weibo