Dragon Age: Inquisition has been enjoying plenty of DLCs from Bioware ever since its release back in 2014. But fans of the series were clamoring for another single player campaign. It seems that Bioware have heed the call and announced The Descent, a single player-centric DLC for Dragon Age: Inquisition.
Recently released, The Descent will take players into the dark and dismal Deep Roads.the treacherous underground caverns of Thedas. An official description from Bioware on The Descent claims that the DLC will be the "biggest seamless dungeon." And the main baddies from Dragon Age: Origins, the darkspawn, are making their return.
"In Dragon Age: Inquisition – The Descent, players will venture deep below the surface to discover the source of mysterious earthquakes threatening Thedas. As the Inquisitor, players must prepare their companions for a perilous journey in the legendary Deep Roads. Darkspawn-infested caverns will challenge the Inquisition like never before. Memorable new characters will shed light on ancient dwarven history and unique loot and powerful gear will be discovered on each player's path to fight and solve one of Thedas's greatest mysteries."
Aside from major single player DLC, The Descent comes with plenty of updates for the game and for multiplayer as well. One major addition for multiplayer is the addition of Pala, the silent sister. " Pala is a zealous dwarven warrior with an unwavering dedication to the art of war." Bioware continues, "Pala willingly chose exile to join the Inquisition in its perpetual struggle against the enemies of Thedas."
Unfortunately, Playstation 3 and Xbox 360 users won't be enjoying the DLCs for Dragon Age: Inquisition, as Bioware announced that they will not be producing DLCs for last generation consoles. On the up side, if fans want to upgrade to current generation consoles, Bioware is providing a save file importer that lets you transfer your save files from Playstation 3 to Playstation 4 or Xbox 360 to Xbox One.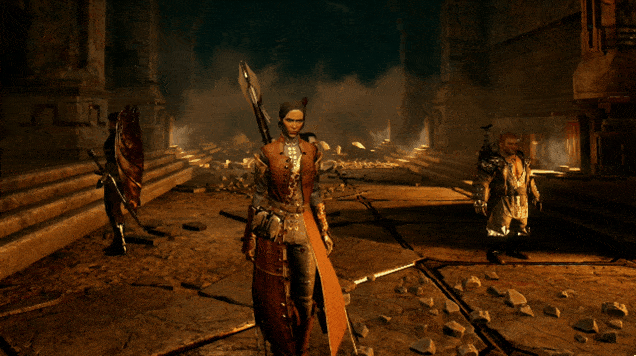 Dragon Age: Inquisition: The Descent is available now for $14.99 on the Xbox One, Playstation 4 and PC. EA Access members for Xbox One will receive 10% off for the DLC.
Source: First 12 Minutes of Dragon Age: Inquisition The Descent
Related Product Link(s):
Playstation Network Gift Card (PS4) (US) 
Playstation Network Gift Card (PS4)(UK)
Playstation Network Gift Card (PS4) (JP)
Playstation Network Gift Card (PS4) (Other Regions)
Steam Wallet Codes (US)
Steam Wallet Codes (EU)
Steam Wallet Codes (UK)
Steam Wallet Codes (MY)
Steam Wallet Codes (TH)
Steam Wallet Codes (ID)
Steam Wallet Codes (PH)
Steam Wallet Codes (SG)
Steam Wallet Codes (Asia/Middle East)
Xbox Live Gift Card (Xbox One)(JP)
Xbox Live Gift Card (Xbox One)(UK)
Xbox Live Gift Card (Xbox One)(EU)
Xbox Live Gift Card (Xbox One)(US)
Xbox Live Gift Card (Xbox One)(Other regions)