The Extended Footage For Uncharted 4 Is Mind-Blowingly Amazing
It's no surprise that the Playstation 4 exclusive Uncharted 4: A Thief's End will be pushing the boundaries in terms of visuals, gameplay and overall awesomeness of the console. The live demo that was shown during E3 by Bruce Straley of Naughty Dog gave us a taste, but now, the full behind-closed-doors demo is live and you can witness the amazing gameplay of Uncharted 4.
Of course, E3 demos are all about hype. Overselling the hyperbole and not really representing reality but damn it, watching the demo that's full of on-car shootouts, big explosives, and over-the-top chases, it's hard not to appreciate this demo as more than just a game demo.
The first eight minutes of the demo follows the same beats (with some minor changes) from the demo shown during the Sony E3 press conference. Business began to pick up when the demo continues past the part where Drake crashes onto the wooden planks and follows him being dragged through the dirt, while slowly inching his way up to the vehicle.
Upon reaching the vehicle, a shootout sequence began and the game really showcased the power of the Playstation 4 with amazingly beautiful destruction and explosions. The smoothness of transition from one chase scene to another is evidence of Naughty Dog pushing the boundaries for Uncharted 4, especially with the epic final chase scene which will leave gamers absolutely breathless.
The more we see of the game, the more impressed we are with how much Uncharted 4 improves from previous iteration in terms of gameplay, visuals, and storytelling (which we won't spoil here!). It sucks that we have to wait until 2016 to actually get our hands on the game, but it will be worth the wait.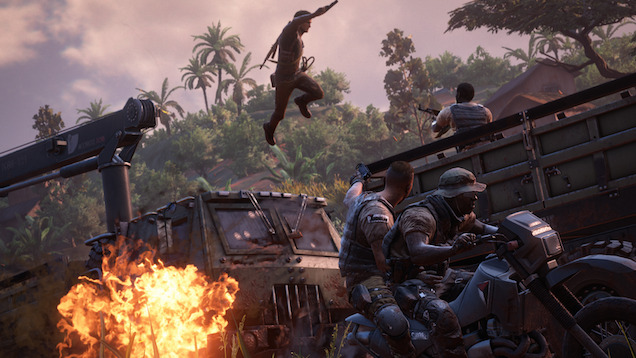 if you can't wait that long, grab the Nathan Drake Collection and go through the series from Uncharted: Drake's Fortune to Uncharted: Drake's Deception. You'll also get access to the Multiplayer Beta for Uncharted 4 as well!
Uncharted 4: A Thief's End is scheduled for a 2016 release and will come exclusively to the Playstation 4.
Source: Uncharted 4 Extended E3 Footage Pours On More Action
Related Product Link(s):
Playstation Network Gift Card (PS4) (US) 
Playstation Network Gift Card (PS4)(UK)
Playstation Network Gift Card (PS4) (JP)
Playstation Network Gift Card (PS4) (Other Regions)