Posted
April 8, 2020
in Gaming
Train Station Renovation hits Steam Early Access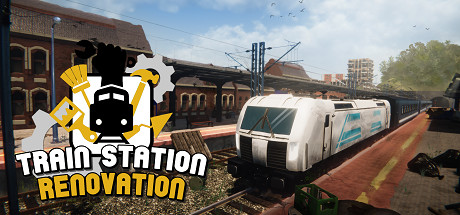 Train Station Renovation is coming to PC via Steam Early Access on April 30th, 2020. Watch the game trailer here:
In Train Station Renovation you will be able to revive deserted railway stations and bring them back to glory. Early Access and feedback from the community will allow the developers, Live Motion Games, to further improve the game.
You will be responsible for remodeling deserted and destoyed stations. Your tasks will include cleaning the stations, repairing damaged objects, furnishing and decorating the interiors.
This title is aimed both at players that like to fully complete their games and at those that play casually, just to relax. That is why Train Station Renovation offers different difficulty levels and does not require you to complete all tasks in order to proceed to the next level.
The game offers 10 maps, on which you will be carrying out your work: starting from small, countryside stations and ending with huge city terminals. Every map will offer new solutions, which will give you valuable experience and which you will be able to use at other stages of the game. Additionally, you will have the possibility to develop your in-game mechanics upgrade by unlocking perks such as: advanced restoration techniques, additional tools or new skills.
Train Station Renovation is a sandbox game, which does not limit the player and does not impose a particular order of actions. It is all up to the player what the stations will look like after the improvements.
Get this game on steam using our steam wallet codes below:
Steam Wallet Codes
Steam Wallet Codes
(Global)
Steam Wallet Codes
(AE)
Steam Wallet Codes
(AU)
Steam Wallet Codes
(BR)
Steam Wallet Codes
(CA)
Steam Wallet Codes
(CO)
Steam Wallet Codes
(EU)
Steam Wallet Codes
(HK)
Steam Wallet Codes
(ID)
Steam Wallet Codes
(IN)
Steam Wallet Codes
(JP)
Steam Wallet Codes
(KR)
Steam Wallet Codes
(KW)
Steam Wallet Codes
(MY)
Steam Wallet Codes
(PE)
Steam Wallet Codes
(PH)
Steam Wallet Codes
(SA)
Steam Wallet Codes
(SG)
Steam Wallet Codes
(TH)
Steam Wallet Codes
(TR)
Steam Wallet Codes
(TW)
Steam Wallet Codes
(UA)
Steam Wallet Codes
(UK)
Steam Wallet Codes
(VN)
For more Information:
Train Station Renovation Official Homepage
Additional Websites:
OffGamers Steam Wallet Codes